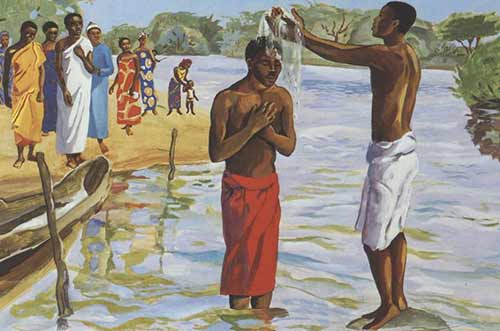 Although this collect may draw from shared traditions (see commentary), the collect I am currently suggesting for the First Sunday in Ordinary Time (January 7), celebrating Christ's baptism, is a reworking of a collect by Cranmer for Christmas.
Let us pray (in silence) [that we will be faithful to our baptism]
Pause
Eternal Father,
you have given us your only-begotten Son
to take our nature upon him,
and revealed him to us
at his baptism in the River Jordan,
grant that we, who have been born again of water and the Holy Spirit,
and made your children by adoption and grace,
may daily be renewed by your Holy Spirit,
through Jesus Christ, our Saviour,
who is alive with you,
in the unity of the Holy Spirit,
one God, now and for ever.
Amen.
This is the prayer I am currently considering including in my Book of Prayers in Common.
As always, beyond this site, wonderful resources are provided by:
Textweek
Preaching Resources Down Under
Girardian reflection on the lectionary
For the majority of Christians, certainly of those who follow a liturgical calendar, lectionary, and church year, and have a concept of common prayer, this coming Sunday ends the Christmas Season and begins "Ordinary" (or "counting") Time (about which I will write on this site in a couple of days).
Whether you regard the Christmas Season as concluding on Christmas Day, Epiphany, the Baptism of the Lord, Candlemas, the Sunday following Candlemas, or are Orthodox, or Armenian, and celebrate the Incarnation on another day and see the season differently… in the Southern Hemisphere, and certainly in Aotearoa-New Zealand, this is our go-slow time… posts may be less frequent than usual. Use the search box to find things of interest. Do check out:
Liturgy's Twitter profile
Liturgy's Facebook page
Liturgy's RSS Feed
Liturgy is also on Instagram.
You can also sign up for a not-very-often email, …
Similar Posts: