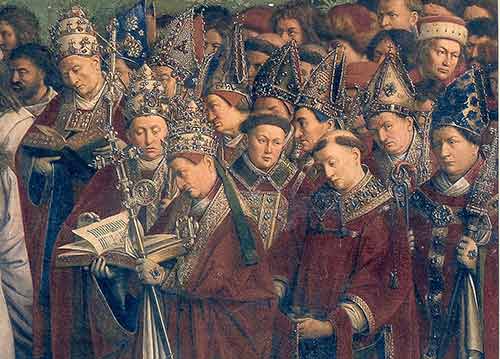 Often we hear the remark that we have to live in the world without being of the world. But it may be more difficult to be in the Church without being of the Church. Being of the Church means being so preoccupied by and involved in the many ecclesial affairs and clerical "ins and outs" that we are no longer focused on Jesus. The Church then blinds us from what we came to see and deafens us to what we came to hear. Still, it is in the Church that Christ dwells, invites us to his table, and speaks to us words of eternal love.

Being in the Church without being of it is a great spiritual challenge. (Henri J. M. Nouwen Bread For The Journey)
This quote is a wonderful reminder that the church is a means – not the goal. I regularly speak and write about our confusing means and goal (end). God is our goal, our purpose, our end.
St Ignatius Loyola is very clear in helping us distinguish the end and the means.
What happens when we confuse means and end?
Here is a collect reflection making a similar point.
If you appreciated this post, don't forget to click "like" on the Facebook Liturgy Page, (there is also an RSS feed).
Thanks to the e-friend who pointed to this quote recently.
image source
Similar Posts: