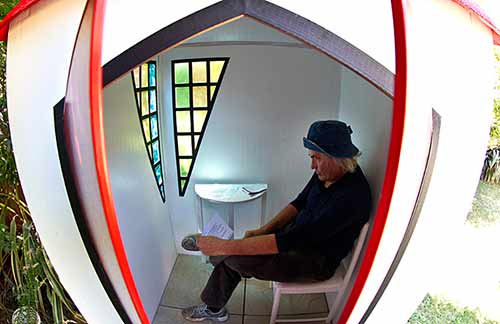 Artist Peter Majendie (above) is building about fifty cardboard, 1.2-metres-square, "god boxes" for people to use as prayer or quiet rooms around Christchurch.
The one above is located on the corner of Lyttelton Street and Cobham Street in Spreydon.
"They can be whatever they want to be to each person. They can be used as changing rooms for all I mind," Peter Majendie says. "I just thought there was a need for a place of reflection in Christchurch. Even if you have no religious affiliations, you can just sit and have some time out."
Yes – there's a risk they will be abused and vandalised…
No endless debates. No committee meetings. No synodical motions. No…
Brilliant!
Read more about this project here.
If you appreciated this post, there are different ways to keep in touch with the community around this website: like the facebook page, follow twitter, use the RSS feed,…
Similar Posts: