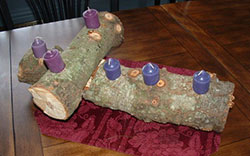 One of the cool things about being part of the community that gathers around this site is the way that we all help each other, sharing good ideas.
We were into the first week of Lent and I received a question: "I remember using a liturgy for a Lenten Ring, similar to the Advent Ring, except that there were six candles around the ring (5 purple and 1 pink) and a white one in the middle. We started Lent with them all lit and each Sunday extinguished one of candles in the ring until we were left with the white candle which was extinguished on Good Friday. I have a feeling that the liturgy originated in NZ. Have you heard of this liturgy/do you know about it/ and, if so, does it still exist and is it available?"
I immediately placed the question on this site's facebook page (and tweeted it) and received a number ideas and practices.
In the image (top left) someone has reused the trunk of the christmas tree and formed it to create a lenten cross.
[There are plenty of ways you can use that configuration for a card cross, or similar, at, say, Sunday School: one square above the crosspiece, three squares making the crosspiece, and two below it. These 6 squares for the six Sundays of Lent can have doors, similar to an Advent Calendar; or stickers can be added each week as they come to church. It can be configured differently if you want to include Easter Day. Your creativity is the only limit]
Here is a rite (PDF) for diminishing lights, putting one candle out each week.
I do not have this book, so cannot comment, but Services For The Lenten Candles
has the intention of linking this rite with the RCL readings – something you can imagine I appreciate:
the seven candles and the weekly extinguishing of each one enhances that long, soon-to-be dark journey. When the last candle is extinguished and the darkness seems to be all-consuming, worshipers will feel the darkness of the soul at the time of Christ's crucifixion.

Using one or two liturgists, flexible services are provided for every Sunday during the Lenten season as well as Good Friday and Easter Sunday, during which a Paschal candle is lighted.

The beauty and symbolism of these services will add meaning and dimension to your Lenten worship as the congregation is reminded each Sunday of being one step closer in the journey to the cross.
It seems if you search for "lenten wreath" any number of other images and ideas are there (see also here). So do add your own ideas and experiences in the comments below.
If you appreciated this post, there are different ways to keep in touch with the community around this website: like the facebook page, follow twitter, use the RSS feed,…
Similar Posts: