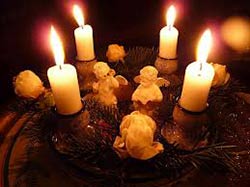 Recently I was asked on twitter what to do with the Advent Wreath during the Christmas Season. I asked the community on facebook and twitter and was so interested in the variety of good ideas that I am making this into a blog post. You can add other ideas into the comments below.
The origin of the Advent Wreath is uncertain. It may be as recent as the nineteenth century.
How are you using the Advent wreath in the Christmas Season? Are you still using it? Are you still lighting all the candles? Have you replaced the purple (and rose) candles for white ones? When do you stop using it?
Here are a few of the responses:
We replace our Advent candles for maroon colored candles (I know, not liturgical white) and we keep the "bowl of prayers" in the center (that we started filling with prayers during Advent) to remember through the Christmas Season.
Advent Candles lit until Candlemass.
The purple and rose candles (and ribbon) are replaced by white candles, but we never used the Advent wreath devotionally after Christmas Eve.
The wreath is gone by the end of 12th night, along with almost every other remnant of Christmas decor. Until then all candles have been lit at services.
White candles on Christmas then it goes back into storage until next advent. But I don't take any items down till the Baptism- and I keep one small item up until Feb 2nd the true end of the season.
The Advent wreath until Vespers on December 24th.
purple and rose for Advent and then switch to all white candles until epiphany.
The Advent Wreath is replaced by the crib.
After Christmas Vigil, I left my candles–all four plus the Christ candle in the centre–burn out entirely on their own (similar, I suppose, to the Jewish practice of letting the menorah candles burn out naturally.)
On Christmas Eve, the 4 Advent candles were replaced with 4 white candles.
…the star will stay until Candlemas
We're 'taking each light into the world'… in a brief litany, we're carrying out one candle 'into the world' each week of Epiphany.
Any more ideas. And the above are just some of the responses received.
There are different ways to keep in touch with the community around this website: like the facebook page, follow twitter, use the RSS feed,…
Similar Posts: