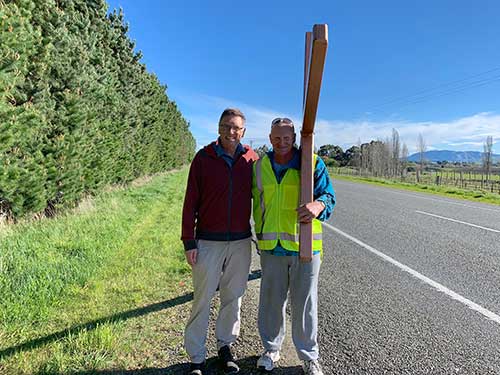 Recently, I saw someone walking along the main road carrying a cross. I stopped the car, caught up with him, and said, I'll walk with you while we talk. His name is Kim Rusden, his wife, Joan, soon caught up with us in their van. They've been doing this for some years now. I remember reading about them – he, walking New Zealand; she, providing the support crew and van. They do this in the school holidays.
He was walking the section from Waipara to Seddon – a section that he couldn't walk after the Kaikoura Quake. He finds that the cross is a conversation starter. They come across as a down-to-earth, laid-back couple. We talk about ways to share Christian faith in the 21st Century.
The common thread that comes through: we have to go to and be with where people actually are – they mostly won't come to us. We have to be there alongside people in the workplace, schools, cafes, sports fields, hospitals, and in his case, on the streets of New Zealand. And "Bible bashing" them doesn't work; it puts people off – we have to be with people where they are, alongside them in their interests and concerns.
Here's more about the Cross Walk:
Man carries cross around New Zealand to spread the word of God
Hikoi of peace: Man walks length of NZ carrying a cross
Carrying the cross the length of New Zealand
Carrying the cross
Similar Posts: