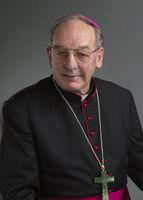 Bishop Barry Jones has announced that the number of parishes in the Roman Catholic Diocese of Christchurch (New Zealand) will be reduced from 42 to 19.
Diocesan-wide consultation began prior to the earthquakes and further changes may develop as post-quakes movements of people and insurance claims take shape.
A document, "Provision for Sunday Mass in the Catholic Diocese of Christchurch" explains the changes are necessary because of a reduction in the number of priests. Bishop Barry, in his introduction of the plan writes:
Sunday Mass, and parish life, requires the foundational ministry of the ordained priest. No priest, no Mass. It is through this ministry of the ordained priest that Jesus unlocks and sustains the priesthood of all those who have been baptised into him.

Because of this truth, the ordained priest must never be marginal to parish life, and the essential structures required. We face now a reducing number of priests – rather than attending to multiple parishes and their requirements, parish amalgamations will see the formation of larger parishes, fewer in number. New and wider parish boundaries will now include previously separate parish communities making possible a sharing of resources, both human and material,for the mission of the Church. These changes will mean some sorrow and sadness on the one hand, but, as well, new opportunities to advance the mission of the Church.
The changes will be implemented in a staggered manner between the start of 2012 and 2014.
*****
I have just rebuilt this website "under the hood", hence this post is actually a repost – the original post "fell off" in the rebuild. So, apologies if you had a comment here. Those comments have disappeared. New comments (or reposting of comments) of course welcome!
Similar Posts: