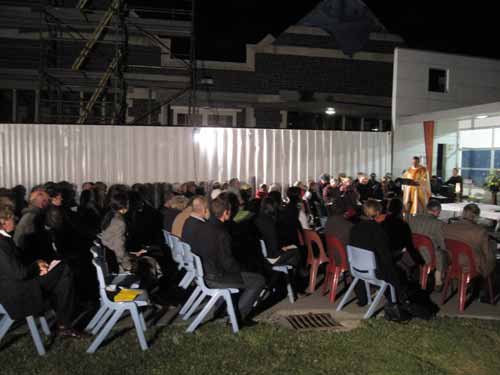 On Friday there was another wave of big quakes in Christchurch – a 5.8, a 6.0 (the 6th and 4th biggest since the start of these quakes, September 4, 2010). They rumbled on through the night with 4s and a 5.1. There was liquefaction and flooding in the eastern suburbs. The Anglican bishop required all Christmas services to be moved outdoors.
The weather could not have been better. At St Michael and All Angels, for carols followed by Midnight Mass, we gathered around an altar under a starry sky (with the central city still fenced off, the lack of city light is very noticeable). Most of the congregation faced South towards the Southern Cross strikingly hanging low in the sky. It was clearly part of the censing of the cross.
The lyrics for Silent Night, rather than having "shepherds quake at the sight", had "shepherds first saw the sight".
Media reports have all been positive about the outdoor celebrations – providing hope and inspiritation in what has been a frightening time. Thankfully no one was seriously hurt this time.
"Scientific" predictions are not proving very robust, and the quakes pay little attention to the recent "zoning". On the media, scientists now speak of not having previous patterns like this one so this is a "once in a thousand years event" (though they don't specify if they mean in NZ or on the planet).
Stories abound again of people going out of their way to help others. Sam Johnson (my Chapel Prefect – read sacristan – in 2006) was again leading the student army to help in the affected suburbs.
I received lots of messages of support, concern, thought, and prayer. The favourite tweet I received was: "Merry stable Christmas to New Zealand and you."
Similar Posts: