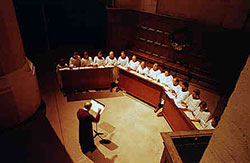 Kelvin Holdsworth (Provost of St Mary's Cathedral, Glasgow) writes about a weekly traditional Compline service at St Mark's Cathedral in Seattle with around five hundred present. It starts each Sunday evening at 9.30pm and lasts half an hour. The hundreds are young. The majority are less than 25 years old.
That service breaks almost (and that almost is important, as we shall see) rule in the How to Attract Young People Big Book of Church Growth.

The building is as close to hideous as makes no odds.
The choir sing from behind a pillar and can't be seen.
You don't get a service sheet on the way in. You don't in fact get anything.
The service is uncompromisingly old fashioned.
The service is based around Plainsong Chant.
There are no guitars. Not one.
It is unaccompanied by anything.
You don't get to do anything.
You don't sing.
You don't speak.
You don't engage.
You don't form community.

And still they come. Hundreds of them. Every week they come.

Of course, there is one rule that they don't break – there is a sense of mystery and awe and wonder about the whole thing. And there is beauty.

If I am coming to any conclusions about what churches need to develop in order to attract people, emphasising mystery, awe, wonder and above all beauty would be right up there high on the list. Read more of Kelvin's account and reflection here
ps. Thousands more, unable to attend, follow the service on the radio or on the internet.
pps. I was recently asked where one could go to a service on a weekday evening if one worked all Sunday. I must admit to being a bit stumped. We continue to be short of lateral thinking in our new context…
Thanks to Fr Ron Smith (one of NZ's few blogging priests) for pointing me to this story. Here's Fr Ron's very helpful site. He recently published his 1,000th post.
Similar Posts: