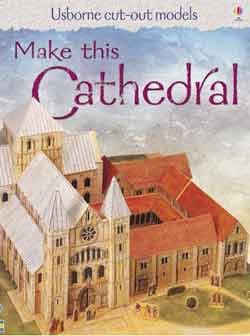 [UPDATED see below]
Christchurch's transitional cathedral group had hoped for a decision a fortnight ago about the location of the $4 million Christchurch cardboard cathedral. Maybe some more lateral thinking is happening…
Speaking of lateral thinking: at the recent Whitcoulls bookshop sale, I purchased a cardboard cathedral for $7 (images).
The costly Christchurch cardboard cathedral (CCCC) is designed by Shigeru Ban. You can see more interesting different designs of his here and here.
Christchurch architects follow the I-can-draw-rectangles style of architecture, and Shigeru Ban has followed that style to fit in with that. For the CCCC he has ingeniously joined two rectangles together, so also holding the memory of the quake-damaged neo-gothic cathedral as well as echoing a wharenui (Maori meeting house).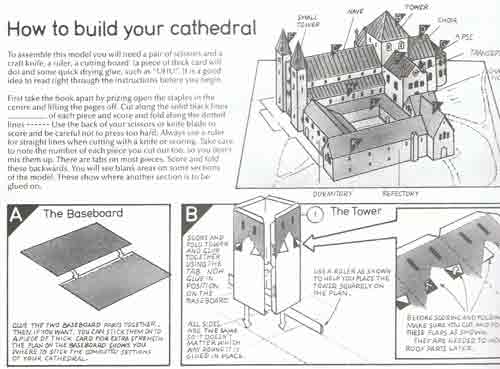 Over its projected decade of use, $4million works out at $8,000 a week. To work that out per person per week, let's round the congregation to … well, you can do the maths…
If you are putting money on it, here's a tip: the CCCC (although the worse for wear) will still be here after a decade. There is nothing as permanent as a temporary measure in this country. Witness the following Anglican cathedrals where temporary became permanent: Auckland, Nelson, Dunedin, and – yes, even the Christchurch cathedral in the Square was only 6/7th completed when the quakes hit. [Don't get the impression that unrealism in what, from a pretty plan, will ultimately be built is merely an ecclesiastical kiwi phenomenon or I'll start with our NZ parliament building for the next list: is our parliament building 1/4 or 1/8th completed according to the pretty plan? I forget.]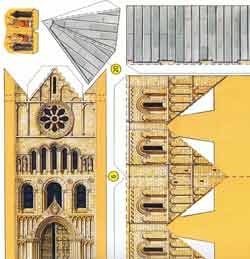 My proposal, the $7 version (cCCC, cheap cardboard Christchurch Cathedral), comes complete with cardboard clergy – a money-saving bonus, as the current dean has just resigned. Cardboard children can be added. This is a boon for Anglicans who are always looking for ways to bring the age of congregations down – without actually dealing with real children and young people who tend to wriggle, make noise, disturb, and generally ask difficult questions. Should Anglican church attendance continue to drop, I'm sure that cardboard congregation members can increasingly be added without any significant loss (see model).
The further advantage of my cCCC proposal is that a cardboard city is available that can be added to the project.
Literalists (yes, there are even literalistic Anglicans now!) please check the tags to this post.
ps. For some more serious lateral thinking, the suggestion of an ecumenical cathedral is not uncommon. As the dust of the quakes has begun to settle, the iconic nature of the cathedral in the Square has become clearer. Many do not think of the cathedral as being secterianly "Anglican" (eg. secular schools have had Christmas events there in a way they would never countenance in any other church building). The church's use of the word "rebuild" has often been heard as "replicate". Many would not understand the intricacies of the difference, eg., between a bishop and a dean – including within the church, nor the decision-making processes now underway (re. new dean, temporary cathedral, what to do in the Square). Many would not realise that "Christ Church" is the cathedral's title (just as it is the title of Nelson's cathedral). There are other options one hears, including gifting the building etc. to the city and province while Anglicanism has kaitiakitanga (including providing a dean, etc.). There is much to consider consultatively and prayerfully.
UPDATE 24 January
Claudia, a regular participant here, provided a link to a site where you can download a cardboard cathedral. It's the cathedral we had (see image below)! And it's… FREE! So: download; enlarge to required size; print onto good Shigeru-Ban-quality cardboard; and place on a site of your choice! (You can even move it about).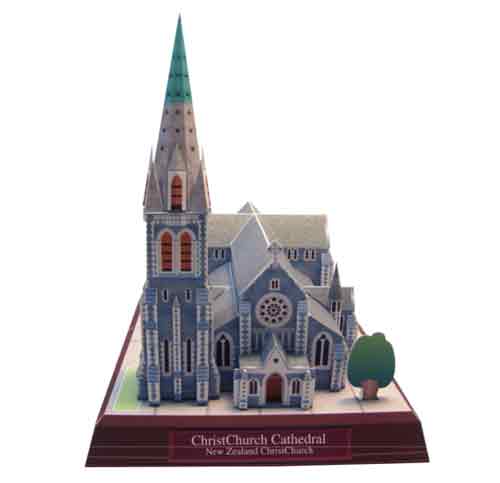 Similar Posts: