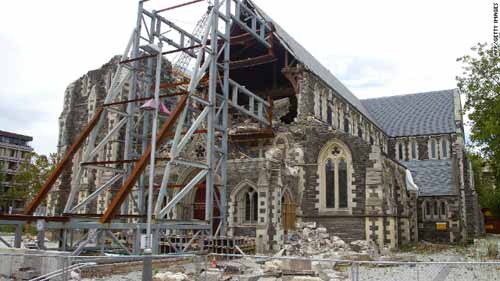 Those who have been reading between the lines will not have been surprised at the announcement today by Bishop Victoria Matthews that the Christchurch Anglican cathedral is to be demolished. The building was deconsecrated on 9 November, not something normally done to a building if it is to undergo repairs. The diocesan website already had a form asking questions like, "What features would you like to see in a Cathedral building which would support this ministry and mission?" The Christchurch Star newspaper already had the information printed prior to the announcement.
The decision is not without its controversy, including online petition for demolition not to proceed, a city councillor saying he, with others, will form a human ring around it to prevent demolition from happening, stories of international expertise being turned down, senior clergy and church laity strongly holding to repairing and replicating what was there, and images of a ruin at the beach with, this week, the bishop supporting the idea of transforming cathedral square into an artificial beach complete with massive movie screens. Early on, the mayor vowed the cathedral would be rebuilt. Both from within the church and from outside it, people have muddied the waters by being unclear what they mean by "rebuild". In the mind of many it meant repair or replicate.
The cathedral is iconic for Christchurch. Look at the logo of the city: green park and gardens, the river, and… the cathedral's profile.
This is the bishop's full message:
Dear Friends,

I am writing to inform you of last evening's meeting and the decision reached about the next step for our beloved Cathedral.

The Standing Committee and Church Property Trustees voted to bring the ChristChurch Cathedral down to a safe level. This is understood to be between two and three meters in height with some parts of the walls necessarily being lower for safety reasons. This means the footprint will be preserved but that there will be extensive controlled demolition and controlled deconstruction. For reasons of safety and the likelihood of ongoing seismic activity, we will not be preserving any of the walls intact. What this plan does allow is the safe retrieval of taonga and heritage items from the ruins. To give one example, we anticipate the safe retrieval of the remaining stained glass windows over the next couple of months. The process of bringing down the Cathedral to a safe level will take most of the balance of the year.

This is very different from the plan presented last October, due to the seismic events of 23 December. CERA has insisted that we present a new plan to ensure the building is safe and we agree with their requirement.

I am sad to have to relay this decision but I believe it is the way forward. There are of course other voices and alternative opinions but I have relayed to you the decision of the Cathedral Project Group, which is the group that has the delegated authority to make recommendations about the future of the Cathedral to the Cathedral Chapter, CPT and Standing Committee. The decision was made with much prayer and deliberation and has the support of each of the various groups. It is also the decision that has the highest support from CERA for safety reasons. The demolition and deconstruction will be carried our with care and great respect for a wonderful sacred space that has been damaged beyond repair.

My prayers and the prayers of many around the world are with you at this time. It is now up to all of us to show that we are the living Cathedral of Christchurch; and that we carry within us and live out the Gospel of Jesus Christ wherever we go and wherever we are. In the midst of this sad outcome let us not neglect to witness to the hope within us due to God's love, grace and mercy.

In Christ,

+Victoria
Similar Posts: