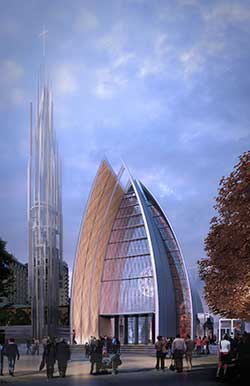 At the Christchurch diocesan synod meeting last weekend, Church Property Trustees (the official owners of the cathedral), announced the decision about the earthquake-damaged cathedral in the Square. Of the three options (1.Restore; 2. Traditional; 3. Contemporary) they have decided that they will build a contemporary replacement.
There was a formal question at synod about progress about the consideration of what has become known as "Option 3B".
In the original unveiling of the three options it was unclear what was fixed and what were "placeholders". Questions led to little explicit clarification. One example: the multi-storey-height image of Madonna and Child has not been commissioned – that image was clearly a "placeholder", and some other image might go at that point.
I expressed concerns about the arrangement of the spaces of Option 3 as presented.
But now it is clearer: it has been decided that, essentially, the whole of Option 3 is a "placeholder".
Bishop Victoria Matthews told The Press option three – the modern Warren and Mahoney concept drawing – could be altered or completely redesigned.

Safety and cost were key considerations, but the trust was "not immune to new ideas".

"But it's a contemporary cathedral – that we can say without question," she said.
There has been much criticism of the process, and comparison of it with being, inappropriately, like a beauty pageant. This latest decision now means, however, that, for example, an international competition, with the design group as the judges, has not been ruled out.
On the other hand, the Great Christchurch Buildings Trust (GCBT) has offered to fund initial stablisation and make-safe work of the damaged nineteenth-century building, and restore it, starting immediately, and completing that within seven years at a cost for full restoration of $67 million. The GCBT has pledged to raise the difference between the insurance payout and that cost.
At the time of writing, 40% of responders to the online vote agree with the decision to have a contemporary building, 42% want a full restoration, 20% don't care and just want people to get on with it. There are court cases still pending to try and have the nineteenth-century building restored.
If a contemporary building is what goes up I think it must be breathtaking, iconic, and embodying best practice in both worship spaces and contemporary Christian meeting and mission place.
[UPDATE: The Press today carried this opinion piece Is this the best the Anglicans can do?]
Some other synod decisions
A bill was passed which will enable post-earthquake structural changes in the diocese.
Ministry units should not apply for money made from pokie machines.
The vote on the Sea Sunday formulary was resoundingly defeated and a message sent once again to General Synod Te Hinota Whanui: fix the liturgical chaos.
Similar Posts: