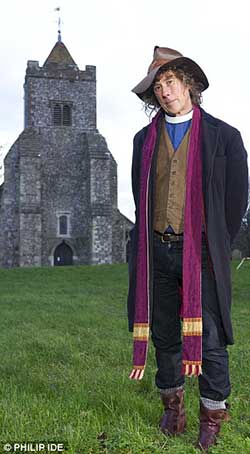 The Church of England is debating its rules on clergy vesture. Much discussion has followed from the Mail Online article.
Note the motivation:
"Rules requiring the clergy to don traditional vestments are set to be swept aside as part of a 'makeover' designed to make services more relevant to modern congregations."
Read my lips:
Absolute balderdash!
Here's some things that do make services "more relevant":
&#8226 integrity &#x2714
&#8226 intelligent spirituality &#x2714
&#8226 interest and compassion &#x2714
&#8226 a sense of awe, wonder, and mystery &#x2714
&#8226 being welcome, included, valued, respected… &#x2714
But if you think that clergy wearing street clothes is going to renew the church and bring droves of young people into your building, then you are the sort of person who thinks that changing the wall paper in your living room is going to put out the fire that is burning down your house…
Our contemporary culture understands uniform perfectly well. Individuals in uniform are not functioning essentially in their own person but representative and with given authority.
The purpose of this post is not to educate about the different signs that each vestment indicates, suffice to say that what clergy wear is not intended to draw attention to the individual wearing them. The obsession with using vesture to underscore status, or signal churchmanship, or highlight the particular individuality of the wearer cuts across the value of the sign. Allegorisation of vesture is tiresome – both when it is used to explain a particular article of clothing, but more so when it is used to refuse to wear such clothing.
In the discussions around the CofE debate, clergy said they would do everything as a priest without wearing so much as a clerical collar – except for a funeral. There they would don a collar. It is beyond me, there being nothing sacramental in the CofE understanding of funeral and lay people being able to lead funerals no problem, why have the funeral as the last remaining place to wear a clerical sign?
It is of interest that the very church communities that would balk at vesting because they seek "to make services more relevant to modern congregations" are regularly the very ones that attack contemporary scientific understanding of the origin of the universe and of human life, lambaste contemporary inclusivity in sexual mores, and hold to every story of the miraculous – except of course in the God-given sacraments of baptism and eucharist (there it's "merely a symbol")!
Fascinatingly, in the Sydney Anglican archdiocese, well known for forbidding clergy to wear a chasuble (see "tiresome" above), and where bishops wear nothing more than trousers and an open neck shirt when confirming – Rev. (am I allowed to give him this title?) Michael Williamson ("Senior Minister" at Shellharbour City Centre Anglican Church) writes of his positive experiments with wearing a clerical collar.
I regularly wear a clerical collar; certainly when I am somewhere representing the church and not primarily myself. It commonly leads to conversations that are clearly important to people. The experience has been mostly enjoyable for me. But there have been times when I have been berated, and have had intense conversations with people who have been deeply damaged by the church's abuse of money, sex, and power. Such an encounter is far from enjoyable; they have led me to being upset, even in tears – but we, formally authorised representatives of the church, clearly identifiable as such, do need to be, and be seen to be honest about our own and our institution's profound sinfulness.
During this Southern-Hemisphere, Aotearoa-New Zealand, go-slow season sometimes your comments may take longer than usual to get through moderation…
If you have not done so already, I encourage you to "like" the liturgy facebook page.
Similar Posts: