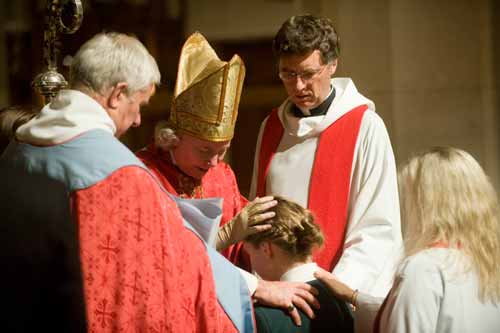 All may; some should; none must – looking again at confirmation
All may; some should; none must. It's a well-known Anglican aphorism for the sacramental action of private confession (Reconciliation of a Penitent). I think, in our changing environment, it is also a helpful adage for confirmation.
I am firmly committed to the way our church has returned to the practice of the early church of giving communion to all the baptised. It is communion, not confirmation, which completes baptism as the sacrament of initiation. Communion is the repeatable part. Coming forward to receive Holy Communion is the ordinary sacramental way we reaffirm our baptism. Helping and caring for others affirms our baptism. Working to transform unjust structures affirms our baptism. And so on.
For some, private confession is a way that is helpful to affirm their baptism. And for some, confirmation affirms baptism at a particular stage in their life.
My context is that of being a chaplain at Christ's College, an Anglican school for boys. In their five years they participate in about five hundred services. Every one of those has a reading from the scriptures, teaching, and prayer. They also pursue the academic study of scripture, theology, ethics, church history, and philosophy of religion. They receive credits in the internationally-recognised NCEA. In any year, students will, on their own initiative and implementation, raise over $50,000 to give away.
Within this context, some students decide to be part of a group to prepare for confirmation with students of our sister Anglican school, St Margaret's College. Others in our community may be just as interested and committed as they are, but find and express this differently. We follow a catechumenal process, focusing on people's questions, and companioning them on their faith journey. Those preparing for confirmation become one of the foci during the seasons of Lent and Easter. They are like leaven in the community.
Old boys who have been part of this group say it was one of the most significant experiences in their senior years. They speak keenly of the way this was an accepting environment in which they could safely discuss and explore beliefs and values. They form a community of close friends. Fun, food, friendship, faith.
One time, Bishop Kelvin Wright came up from Dunedin to present at a weekend retreat we had as part of confirmation preparation. He wrote about it on his blog: "I've had a great day. The best day I can remember for a long while. …As a group, they listened. They asked intelligent and perceptive questions. They made searching, and at times frank comments. They talked to each other with respect, enthusiasm and focus. They cracked jokes and clowned around. … At the end of the day they made a speech thanking me for being there, but it was me who was grateful, and it was me that gained most from the day….being in the company of young people who are faithful and intelligent about what they believe is a very invigorating and reassuring experience."
I concur with Bishop Kelvin's point. The process adds to my already-heavy workload, but is a highlight in my year.
Obviously there are parts of our confirmation rite that sorely need revising, just as there are parts of our baptism rite which are unusual in contemporary liturgy.
The congregation gathers to support those being confirmed. I wince again and again whenever our rite eccentrically has the bishop separate those who are baptised in the congregation from those students who are not. The unnecessary exclusion is an obviously preventable source of frustration and irritation.
Our canons continue to demand our ordinands be episcopally confirmed as if baptism isn't full church membership, or confirmation by a priest or other clergy lacks something. Some bishops flout this. Does baptism make one a full member of the church or doesn't it? It's long past the time for the church to make up its mind on this one. The ridiculousness of our inconsistency is underscored by the way we accept those ordained in other denominations who are not epicsopally confirmed.
The church should also hear more from those who work with younger children. The persistence in some places (I think inappropriately) of the very 70s "admission to communion" leads me to wonder if we need another rite, with its own integrity and symbolism, for around that age group. And maybe another for the juncture into teenager hood. And one for a new stage in later life.
We need to work more at restoring the centrality of baptism. Baptism is still sometimes a private affair, or a preparation for confirmation, often all with a font that would struggle to be a comfortable bath for a sparrow. Maybe it is at baptism we should have all the pomp now reserved for the ordination of a new bishop. Ordination, in the early church, was tacked onto the normal Sunday service. Baptism should have the grand certificate – ordination could have the tear-out certificate from the diocesan pad.
Somewhere in that renewal, confirmation could settle into one way some people could witness to their faith in the presence of others. A way all may use, some should, and none must.

This article of mine was originally published in Anglican Taonga Easter 2012
Similar Posts: