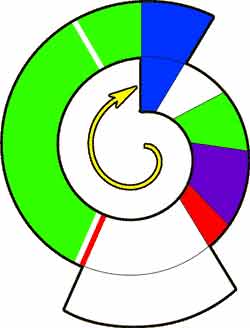 I promised recently that I would explain one way for helping people at worship with the responses, and prayers prayed aloud together. This is the way I used when I was parish priest of a multi-centre parish.
New Zealand Prayer Books were readily available.
I produced very simple, clearly-laid-out service outlines on 4xA5. An A4 sheet/card was folded, and on it were the cues and their responses and the prayers we said aloud together (eg. the confession). There was also the cue that led into what was proclaimed together. Eg:
…for ever praising you and saying/singing: [422]
Holy, holy, holy Lord, God of power and might,
heaven and earth are full of your glory.
Hosanna in the highest.
Blessed is he who comes in the name of the Lord.
Hosanna in the highest.

Next to each response, prayer, or section there was a Prayer Book page number (I've given one way of doing that in the example above this paragraph) so that, if you wanted to, you could find the full information in the Prayer Book.
This folded card/sheet was lightly coloured according to the church's season. And the responses and prayers were selected to give a particular seasonal feel. Ordinary Time after Epiphany felt different to Lent which felt different to the Easter Season and so on…
Many people, regulars, would know the responses and prayers by heart – and respond and pray without reference to anything. These responses and prayers were used week by week at least for the season – people became familiar with them during that season.
Others picked up the card and could easily follow the full service from the card. Visitors and new people immediately knew where they were, and had an outline in front of them of the shape of the service.
Others wanted to follow the full texts and could easily do so – the page numbers of the Prayer Book were before them. Some, of course, were familiar with the Prayer Book and didn't need the card to find their way in it.
There was never an incessant announcing of page numbers as if this was a rehearsal, or some sort of incessant housie/bingo game, or lottery result announcements.
You will notice that these ideas undergird some of the approaches and suggestions in my book Celebrating Eucharist.
Similar Posts: