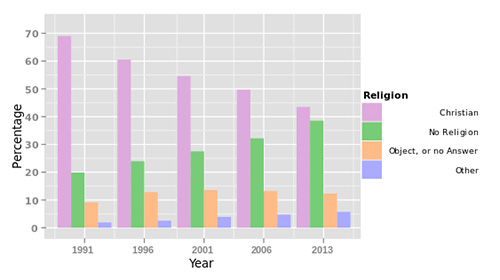 New Zealand has just been completing its census (on Tuesday, 6 March 2018). Every five years (since 1851) we count everything from Culture to Work (and Education, Income, and Religion in between). This year it was mostly done online.
I think statistics (if used well) are very important – it is nigh impossible to plan for the future if you have no real access to the situation of the present. NZ Anglicanism is well-known for not keeping national statistics (we have no real idea of how many are in our church buildings nationally on Sunday, or their age distribution; how many were baptised, married, or ordained nationally; what the age-range of our current clergy is nationally and how the age-range of those who are offering themselves for ordination might relate to that; and so on and so forth). I don't think anyone is pretending that the secular census replaces such "internal" statistics gathering. All we know is that the days of just writing "CoE" (possible thinking it meant "Christmas or Easter") are dying. Beyond that – it's guesswork.
I was fascinated that, under the section "What is your Religion?" (with the request to be as detailed as possible), once you started typing "Ang…" the prompts included "Anglo Catholic", "Christian Anglican Mission" (whatever that is!), and "Maori Anglican" [no mention of Evangelical Anglicans, Broad-Church Anglicans, Liberal Anglicans…]
I will be interested to see how this information is presented when the statistics come out. Are Anglo Catholics counted with Anglicans, or will NZ's statistics regard them as a separate religion, for example.
At the point where I was to fill in the main subject of my highest qualification, as I started to type in "Theology", the online prompt suggested "Beauty Therapy". Yep, I can see the connection… Pretty close…
One priest responded to, "Enter the full name of the employer that you work for" as (I love this!) "God (Father, Son, Holy Spirit)". And she continued under "What is the main activity of that employer?" as "Loving humanity, running the universe, creating, redeeming, and sanctifying, etc."
As to: "Do you have difficulty communicating using your usual language, for example understanding or being understood by others?" – is there actually anyone who doesn't experience this?!!!

If you appreciated this post, consider liking the liturgy facebook page, using the RSS feed, and/or signing up for a not-very-often email, …
Similar Posts: