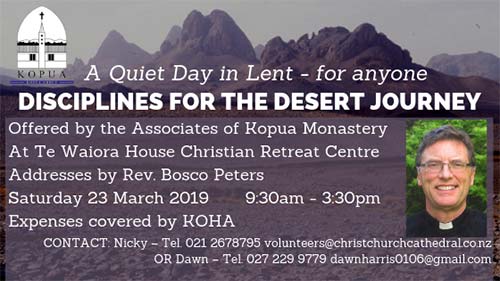 Monasteries and monastics draw from desert spirituality. They express disciplines that we, outside monastery walls, can draw on also. Some of these disciplines are expressed in vows of stability, obedience, ongoing conversion,…
The Associates of Kopua Monastery are offering a Quiet Day in Lent on Saturday 23 March from 9:30am – 3:30pm at Te Waiora House Christian Retreat Centre
236 Hororata Road, Hororata.
I will be giving some short addresses, and there will be time for silence and shared prayer.
Costs to be covered by Koha.
For more information – and to let us know you are coming:
Nicky – Tel. 021 267 8795 volunteers@christchurchcathedral.co.nz
Dawn – Tel. 027 229 9779 dawnharris0106@gmail.com
Accommodation is available on the Friday and/or Saturday night.
If you appreciated this post, consider liking the liturgy facebook page, using the RSS feed, and/or signing up for a not-very-often email, …
Instagram's @liturgy is the new venture – if you are on Instagram, please follow @liturgy.
Similar Posts: