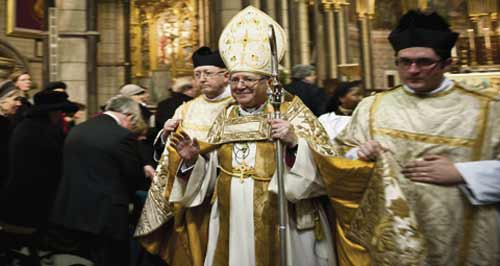 This is not a photo of a bishop.
This is a photo of a Roman Catholic priest in a Roman Catholic church. Although not a bishop, he is dressed like a bishop. Roman Catholics call that the "Anglican Ordinariate".
This man, Keith Newton, has been playing dress-up. He has been dressing up like a bishop since 2002. At that time Keith started dressing up as the "bishop" of Richborough of the ecclesial community, the "Church" (sic) of England. He has not been able to stop.
Keith joined the Church™ on 1 January 2011. Twelve days after joining the Church™, on 13 January 2011, he was ordained to the diaconate™, and two days later, on 15 January 2011, he was ordained to the priesthood™ by Vincent Nichols, Archbishop™ of Westminster, in Westminster Cathedral. On this date Pope™ Benedict XVI appointed Keith as the first ordinary of the Personal Ordinariate of Our Lady of Walsingham in England and Wales.
Because Keith is married, obviously he cannot be a bishop™. But the pope™, who always tries to allow for each man's proclivity, is allowing Keith to continue to dress as a bishop even though he isn't one. And cannot be one. This is part of what the pope calls the "Anglican patrimony". Anglican patrimony in the Roman Catholic Church consists of a five-fold mission statement (very Anglican!):
dress up as much as possible
have lots of titles ("Ordinary", "Monsignor",…)
use olde Englishe languagee, or at leaste wordse thate no one else usese muche anymoree (this part of Anglican Patrimony is now spreading into regular English-speaking Roman Catholicism)
rule number one – no poofters
rule number two – no ordaining women
Similar Posts: