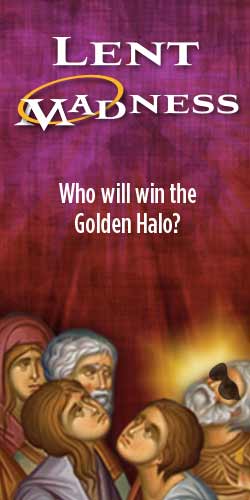 Lent Madness is coming!
This Lent 32 saints will battle it out for the golden halo. Seven celebrity bloggers and I (as a token Southern Hemisphere blogger) are going to be the panel while you do the voting!
It's a bit of fun with your fasting.
There's a facebook page to like. There's even widgets to add to your blog or website. On the website you can also sign up for email updates.
Lent Madness began in 2010 as the brainchild of the Rev. Tim Schenck. 32 saints are placed into a tournament-like single elimination bracket. People vote for their favourite saint. 16 saints make it to the Round of the Saintly Sixteen; eight advance to the Round of the Elite Eight; four make it to the Final Four; two to the Championship; and the winner is awarded the coveted Golden Halo. The first round consists of basic biographical information about each of the 32 saints. Things get a bit more interesting in the subsequent rounds as we offer quotes and quirks, explore legends, and even move into the area of saintly kitsch.
Similar Posts: