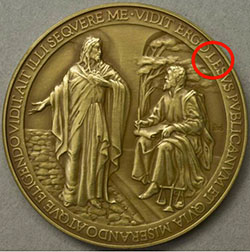 What has the world come to if the Vatican cannot spell the name of the Saviour! [No, check the date, this is not one of my annual April Fools' Day posts]. 6000 bronze, silver, and gold medallion coins have been minted with Jesus' name as "Lesus". No – I could not have made this up!
The commemorative coin, marking the first year of Pope Francis' pontificate, has the image of Pope Francis giving a blessing with the words, "Franciscus Pont. Max An. I." above the image.
On the other side (image above) there is the Gospel scene of Jesus meeting Matthew with the words "vidit ergo Lesus [sic] publicanum et quia miserando atque eligendo vidit, ait illi: 'sequere me,'"
This is intended to quote Venerable Bede's Homily 22, read in the Daily Office on the Feast of Matthew, and, if spelt correctly, would translate as "Jesus therefore sees the tax collector, and since he sees by having mercy and by choosing, he says to him, 'follow me'." The episcopal motto of Pope Francis is "miserando atque eligendo" ("lowly but chosen"). According to Vatican Radio, this text is especially meaningful to Pope Francis. On Saint Matthew's feast day in 1953, Jorge Mario Bergoglio aged 17, felt called to enter religious life after experiencing the presence of God's love.
One person tweeted "I blame the Lesuits". And I immediately made sure that I am following Lesus.
Similar Posts: