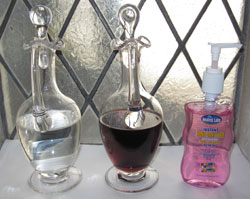 Predictions that using hand sanitizer as a significant ritual actual would become unmovable have, thankfully, proved incorrect. The distracting, grand, highly-visible ritual of the sanitising of hands (in the sanctuary) by those who will distribute communion seems to be decreasing. The reduction of the practice is helped by increasing awareness of the
mounting data suggesting antibacterial soaps do more harm than good (building on earlier such evidence).
I hope presiders are aware of the tradition of washing hands properly with soap and warm water in the vestry/sacristy prior to the celebration of the Eucharist. The traditional (allegorical) prayer that goes with this is:
Da, Domine, virtutem manibus meis ad abstergendam omnem maculam ut sine pollutione mentis et corporis valeam tibi servire.

Give virtue to my hands, O Lord, that, being cleansed from all stain, I might serve You with purity of mind and body.
In many vestries/sacristies, this prayer is displayed on the wall above the sink, traditionally with towel racks labeled Ante Missam (Before the Eucharist) and Post Missam (After the Eucharist).
The tradition of washing hands before prayer is ancient and widespread – not merely within Christianity. Blessing oneself with holy water as you come into the church building is part of this tradition. As is the lavabo/hand washing prior to the central prayer of the Eucharist – the Great Thanksgiving Prayer.
Read this post in a Throw back Thursday sort of way.
hand sanitizer lavabo
Lavabo 1
Lavabo 2
Lavabo 3
Washing hands
If you appreciated this post, do remember to like the liturgy facebook page, use the RSS feed, and sign up for a not-very-often email, …
Similar Posts: