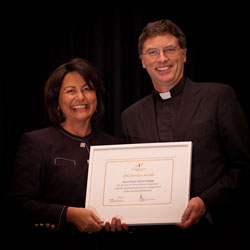 I recently received an Honours Award from the Independent Schools of New Zealand. It was presented to me in Wellington by the Minister of Education, the Hon. Hekia Parata (photo left).
I am honoured to receive this award; I think it significant that the spiritual dimension of Christ's College, where I am chaplain, features so positively; and the citation mentions this website and alludes to the liturgy twitter profile, and so I wanted to share this award with you all.
Citation for ISNZ Honours Award Recipient

Rev Bosco Peter, Christ's College

For service to school-based Chaplaincy and the development and encouragement of the spiritual dimension

Bosco has led the spiritual life of Christ's College since 1998, fulfilling a wide range of roles from Chaplain, pastoral support, RE teaching, to managing squash teams and maintaining a liturgy website and blog that is one of the most followed in New Zealand and beyond. He has over 70,000 followers! Always willing to engage in discussion or debate, to serve and to take time with the boys, Bosco's pivotal role in the spiritual development of his students and the esteem in which they hold him is widely acknowledged beyond the wall of Christ's College.
Similar Posts: