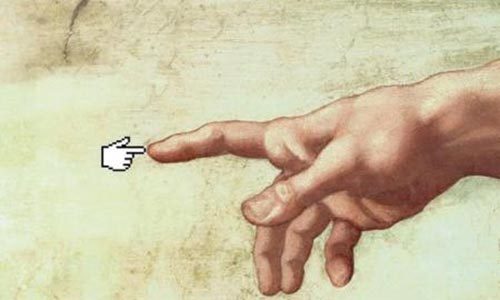 In preparing for the Eucharist celebrating 10 years online, I tweeted and facebooked seeking a hymn which acknowledges the Internet. The reactions mirror the discomfort that many Christians and many churches have with the Internet, certainly a lack of seeing it (in practice) as "good," yet another God-given tool, and a place for mission and ministry.
Reactions to my "is there a hymn which acknowledges the Internet?" were mostly along the lines of "I hope not"; "I hope this doesn't exist"; "I'm sure @UnvirtuousAbbey would compose one for you!" Many turned it into a joke ("He's Got the World Wide Web in His Hands?")
Thankfully @Rev_Gareth saw my tweet and responded with his lyrics:
Jesus, hope of saints and sinners,
yours the name we're called to share.
Hillside teacher, story-weaver
and the heartbeat of our prayer.
You invite us all to join you
at the Father's Kingdom call:
so the friends of heaven gather
to declare the Friend of All.

Where we nurse a fading image
of the Kingdom drawing near,
build upon our silent longing
make your vision crystal-clear.
Let our lives and lips reveal you
in the journey we've begun:
so that hope, in being faithful,
loves 'til death is overrun.

Passing fame and fading glory
are the hallmarks of our age.
Give us voices to declare you,
Jesus, Lord on every page.
Hallelujah, friend of sinners,
yours the profile we would own:
yours the call to closer friendship,
yours the invitation home.

My friend, the Rev Dr Pete Phillips from CODEC at Durham, UK, asked if I knew of any hymns suitable for the world of social networking. I didn't, so wrote the following one. You can sing it to many tunes but I favourBlaenwern, usually used for Love Divine, all Loves Excelling.

Copyright © 2011 Gareth Hill Publishing/Song Solutions CopyCare, 14 Horsted Square, Uckfield, TN22 1QG www.songsolutions.org
We sang it to the tune Hyfrydol.
Similar Posts: