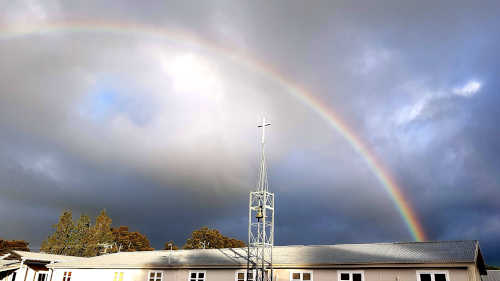 There is a new website about and for Cistercian Associates of Kopua Monastery, Aotearoa New Zealand: kopuacistercianassociates.nz
I first started going to Kopua Monastery five decades ago. Kopua is a central part of my growing spiritually, of my love for spirituality, the desert and monastic disciplines, and developing a strong centre which thereby allows for soft and including edges.
Over time, I had been hoping to commit more formally to the way we can live these monastic values and disciplines beyond monastic cloister walls. Other orders have oblates, or third orders, and so forth. When Kopua finally agreed to have Associates, I was one of the founding Associates two decades ago.
At a meeting of Associates in Ōtautahi Christchurch a fortnight ago, I was delighted that the new Associates website was launched. It has a delightfully clean design that has as good quality on a laptop as on a cellphone.
Cistercian Associates draw on the spirit of the Rule of Benedict as a lens on the Christian life. The new website currently has areas on Cistercian monastic life; Kopua, the place; Associate life; and there is a section that is a members' area for Associates.
Do enjoy exploring this site, as well as of the Kopua Monastery website.
image source: the Church at Kopua Monastery on the new Associates Website
Similar Posts: