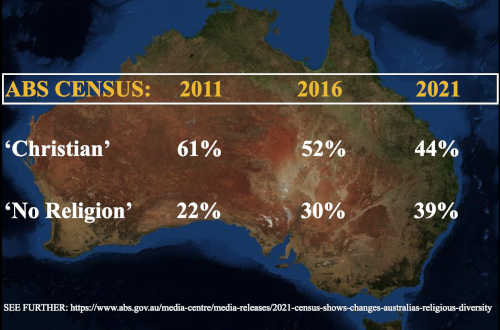 A recent tweet (and thread) caught my attention with the image (above). Australia's census decline of people who call themselves Christian has dropped by about a third (1/3 of 61%) in a decade. I checked New Zealand's census percentages – the starting point is lower, but the slope of the decline is similar. I graphed the two: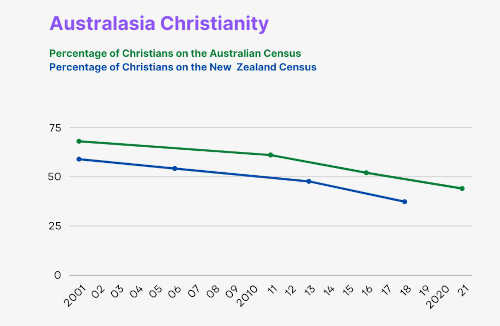 In Australasia, census Christians are now a minority. If this slope continues, Christianity in Australia and in New Zealand has approximately another 25 years.
The statistics for Anglicanism are even more challenging – NZ Anglicanism has dropped from 17% to 7% in the 17 years covered by the above graph. As for church attendance, as our Church resolutely keeps no national statistics (and separate diocesan statistics have no consistency in what they record) I am not sure that many, even at higher leadership level, could even guess at our church attendance last Sunday, say, and say get it correct to the nearest thousand. Best guess I used to make was about 1% of the population was in an Anglican Church building on a Sunday. Now I wouldn't even be able to guess that to within a decimal point of 1%.
What does it matter?
In a recent conversation about this, the story I have heard before was repeated: we need not be toon concerned is the moral – elderly babushkas were the only ones in a Russian Orthodox Church, and the prediction was that the church would die out within ten years. Come back a decade later and new, different babushkas had simply taken their place. I am not convinced that the story translates to our context.
I have travelled too much in lands that were once vastly Christian (along North Africa, for example, with massive cathedrals, etc) where now Christian communities are house-churches fitting into a living room. The Lost History of Christianity, by Philip Jenkins, is sobering reading – telling the story that most Christians don't know, of a Christianity in the Middle East, Africa, and Asia that essentially died out.
I recently saw an English statistic that 33% of those over 75 saw themselves as Anglican; and 1% of those between ages 18 and 24 do.
Honesty about our situation is the first step towards appropriate visioning for the future.
Sure, there are today's gyrovagues, moving from church to church and denomination to denomination, and changing one's style of worship, or the preacher, or whatever, will move some of these either in or out. Individual church apparent growth statistics can simply be movement of a steadily declining number of deck chairs. We do need to have quality worship, preaching, and welcoming at every service. If I try a cafe, and it serves me badly once – I'm pretty likely not going to come back. And I am tired of repeating over and over: our online presence must be clear, welcoming, and accurate. It far too often isn't.
Church organisation still often appears in a Christendom, majority model – we use titles and have top-heavy organisations that give the impression (to ourselves at least) that we are far more significant than we are in reality.
And what sort of training, study, and formation is required in a world where people would struggle to tell you Jesus' mother's name, or give the vaguest indication of what is meant by "New Testament", or be able to articulate what Easter is celebrating? There is no point, in this world, to have a website or notice board (however up to date) with terms like "1662", or "BCP", or "Prayer Book",… – if your intention is to aim beyond your little, shrinking, ageing in-group.
Are we going to abandon the Anglican concept of parish? Where the vicar was understood to be there for anyone and everyone within the geographical boundaries. Is the priest there simply for those who come on Sunday? And if so, does the concept of parish still hold, but it is the congregants who relate to all within parish boundaries in the manner a vicar was understood to do so in the past?
If there is any remaining sense of parish – how many people in an area should there be for every stipend priest? I used to have a rule of thumb – 1 stipend priest per every 10,000 general population. Is there any such strategic figure in today's church planning? With the burgeoning of suburbs and subdivisions, is church planning seeing 1 stipended priest per, say as just an example, every 20-25,000 general population? With a church plant for every new subdivision of how many houses?
And, finally (for the moment), honesty about the downward trend will help us to be a bit more gentle with ourselves. The decline and ageing in our particular worshipping community is not totally our fault! We can tinker around the edges, but we are caught up in a much larger movement that includes post-modernism, pluralism, alternative facts, revelations of massive church sex abuse scandals and cover-ups, revelations of emotional and other abuse by Christians, unscientific responses to Covid, inability to connect with contemporary science, damaging relations with LGBTQIA+ people, changes to the work week and the weekend, lack of agility in the digital world in which people now live, changes to leisure, standards of living, and sport, and so on, and so on…
Similar Posts: