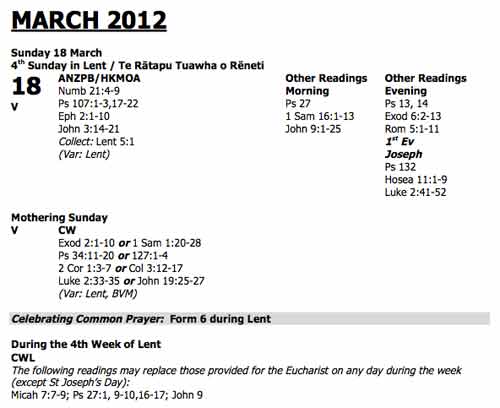 Highlighting liturgical confusion could become a weekly post… 🙁
The Anglican Church in Aotearoa, New Zealand and Polynesia has "formularies". These are agreements of, say, shared worship practice – this is what unites our church. A Bill is brought to General Synod and receives the approval of the three houses (bishops, clergy, laity) and the three Tikanga. This decision then goes to all diocesan synods and hui amorangi for a majority vote, again approval is sought in three houses. After that it returns to a newly elected General Synod for another vote (three houses, three Tikanga). After that there is a waiting period of a year for anyone who wishes to raise an objection to this becoming a formulary…
So that's the way the Revised Common Lectionary (RCL) became what we, as a church, agreed to be the appointed readings for the Eucharist.
Moreover, the Act of Parliament that applies to our church clearly states that the formularies may not be diminished.
This Sunday the readings we agree (using the agreed process in the above paragraph) we will use at the Eucharist are:
Numb 21:4-9 Ps 107:1-3,17-22 Eph 2:1-10 John 3:14-21
The Lectionary calls this "ANZPB/HKMOA" – which of course it isn't. That was on the assumption that the illegal reprint of the Prayer Book had gone ahead – which it hasn't (surely that it didn't go ahead was known for Lectionary 2012?). The Prayer Book, ANZPB/HKMOA (page 698), has a different psalm and OT reading, and RCL has expanded the NT reading.
But wait…. there's more! And now you will know why we are called the Anglican Church of Or.
The NZ Lectionary also provides:
Exod 2:1-10 or 1 Sam 1:20-28 Ps 34:11-20 or 127:1-4 2 Cor 1:3-7 or Col 3:12-17 Luke 2:33-35 or John 19:25-27
This is called "CW" which refers to "Common Worship". Someone may have to help me – when did the Common Worship readings go through the process of becoming a formularly of our church? Otherwise, obviously, using those readings is in breach of our agreements, and diminishing the formularies. And it is astonishing to find such in an "official" document of our church…
Liturgical Colour
The Lectionary says (page 4):
The colours suggested for each day are shown in the left hand column under the date. They are not mandatory but reflect common practice in most parishes. Traditional or local uses may be followed where established. Please refer to the Liturgical Colours section on a later page.
There is a further full page on the colours in the Lectionary (page 125). But not a single allusion to rose-pink used in many places for Advent 3 and Lent 4.
Fascinatingly, the Lectionary has the Common Worship readings – which are not allowed – and does not include the Common Worship suggestion of rose-coloured vestments – which are allowed!
"Rose-colour is sometimes used as an alternative on the Third Sunday of Advent and the Fourth Sunday of Lent."
This Sunday is nicknamed Laetare Sunday, (also nicknamed Refreshment Sunday), from the first word of the Introit "Laetare Jerusalem" (Rejoice, Jerusalem). There is a slight relaxation of Lent's penitential spirit as we glimpse the joy that is coming soon at Easter.
Similar Posts: