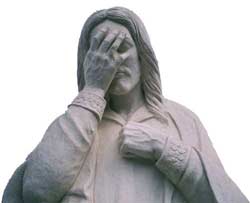 This is the fourth in a series on liturgy and law. The first is here. The second is here. The third is here.
I am part of a church which has a culture of breaking our liturgical agreements (one exception: beware if you follow this culture in relation to gays – but that's another story). From bishops, through cathedrals, to difficult-to find rural parish churches and Fresh Expression events – our formularies, canons, solemn vows, and agreements are broken.
In such a culture there is little point in putting in the huge energy to go through all that is required to change a bit you do not like or you do not agree with. Why put in all the effort to get something changed when: (a) you know people won't follow the change once it has been made, and (b) if you want to change it – just do it.
The culture of breaking our agreements leads to the extinction of any shared serious liturgical reflection or debate, the demise of any real common worship life.
Probably the most public "just do it" recent event was the decision to print a revised New Zealand Prayer Book without going through the church's own requirements to revise it. I was the only one (and then many of you in the community around this site joined me) who said, "ummm… hang on just a minute…"
Another example.
I was not enamoured by the NZ Prayer Book's baptism rite which essentially reversed the inherited liturgical grammar and poured water over someone and then checked after that whether they now believed anything.
When I was a member of General Synod Te Hinota Whanui (GSTHW) in 1998 I put a motion, which was unanimously passed:
that General Synod/te Hinota Whanui requests that before the next ordinary session of the General Synod/te Hinota Whanui the Common Life Liturgical Commision prepares for authorisation an alternative baptism rite which is easier to follow and restores the promises, commitments and creed before baptism.
The next meeting of GSTHW, in 2000, passed what is now in our Prayer Book (page 397) D An Alternative Order for the Liturgy of Baptism only. I was not a member, and when it reached our diocese for confirmation, I pointed out an error – it omits a page and a half of rite, The Presentation for Baptism pages 384-385. I was told this error doesn't matter: A The Liturgy of Baptism and the Laying on of Hands also has this same error! So it was passed by diocesan synods and hui amorangi, and a fresh meeting of GSTHW – and there it now sits; authorised; with its error; and with the error in A (cf. our efforts to spell "breech" correctly).
But why go through all this effort – when people just make the changes they like, use or create rites they feel happy with, ignore rules and rulings, or any commitments they themselves make.
My primary point (lest we stop seeing the wood for the trees) is that in a culture in which liturgically anything goes serious discussion about (changing) liturgy is irrelevant.
ps. That alternative baptism rite (D page 397), which has been authorised for a decade now, is not even alluded to on the online version of the NZ Prayer Book. Go on. Act surprised!
Similar Posts: