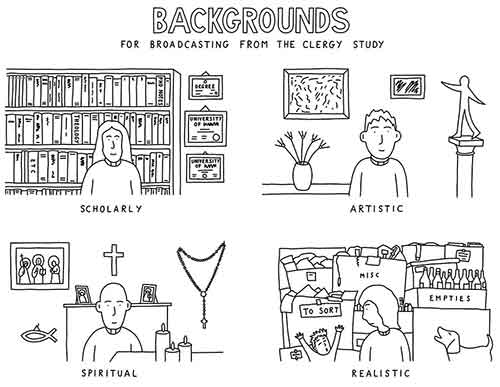 Do begin, if you haven't already, by reading yesterday's post on what we are learning in lockdown. I am continuing yesterday's reflection. I began yesterday with a funny story. Today's funny story is: those churches that pre-record the service, but then stream it at the normal worship time, giving the impression that it is "live", and then – wait for it: someone leading the service, seemingly "live" on the screen, forgetting that this is the time the community is watching the "live-streamed" service, ringing up someone who is watching that livestream!
Before we proceed to looking at different online worship styles, might I make a point about modelling. I have seen Eucharist recorded in New York (seriously affected by Covid-19) in an otherwise empty church building, where clergy and others have come together from different households to make the recording. The same happened in Sydney (also one of the more affected areas). I have seen an interview filmed in the Netherlands, again in an otherwise empty church, (the Netherlands at the time ranking 5th in the world for deaths/million from Covid-19, and its mortality rate a hundredfold that of my country) and, with much in the video being made about keeping 1.5m distance, a hand-held microphone is passed from person to person, and people are also moving from chair to chair for different people to be interviewed. I watched these videos, stunned.
One might also add to the reflections that follow: what theology and spirituality is being advanced by having clergy leading worship in a grand way, in a grand church – which is otherwise empty?
Online Worship Styles
Online worship can tend in two directions.
Some, in their online worship, have tried to replicate what their community is used to in their IRL (In Real Life) worship – encouraging their regular community with the familiar; hoping, also, that when lockdown concludes people from this community will return to their regular attendance again IRL. Some have set up a home sanctuary space for their video recording. I saw an American challenge that there is something wrong with a clergyperson if they don't have a private chapel at home! [That was soon followed by: if you are not leading the Eucharist, and doing what any layperson can do, why should we be paying you?! Well USA is kinda unique in the way it approaches things! Say I, in this case, hopefully].
Others follow a quite different model to the above replication approach. They want worship to adapt to the context. In this approach, worship is clearly set in a sitting room or study, not a sanctuary. In this approach, the threshold for an unchurched person to engage with this is low. This seems a risk that those who are attracted to this online format will not find anything akin IRL post-lockdown, but there is a liturgical integrity here.
Already, something is becoming clear: the rites you are putting online may be followed by members of your community – but there will be others who can be anywhere, even half a planet away. They won't be able to join your post-lockdown IRL community, even if they wanted to. How are you facilitating their ongoing, post-lockdown spiritual journey?
I have been joking with some that when we return to IRL worship we won't be able to fast forward, mute, or get up to get a drink (as I mentioned in the previous post) either pausing it or not!
There are Zoom services, live-streamed; all participants are muted except the one leading (and another unmuted responding); different persons can lead different segments. The Zoom service can be recorded, available for others online later. Others prerecord services; this means such services can be edited. Then there are those people who prerecord, but stream at the set time – giving the impression that you are part of a live-streamed service. I have experienced this, and I need to acknowledge that it did feel odd to have been part of what I thought was a live service and finding out later that I had been watching a recording. Why that felt different, and in what way it actually is different is worth further reflection.
Then, following the second, the adapting-to-the-context model (explained above) there are those people not replicating or even modifying IRL services but presenting a simple prayer, scripture reading, and reflection. Most days, I have been joining up to a couple of thousand people on such a facebook live format, and it is then available as a recording once concluded.
At least one canny parish, on receiving the news that lockdown was three days away, got their team and video recorded their way through all the Holy Week and Easter services. Furthermore, I know at least one priest who, watching such a video, joined in, consecrating bread and wine at home at the time this is happening in the video [hold that thought – I've promised a blog post on the possibility (or not) of remote consecration].
I repeat again my own thought that in this time God may be encouraging us, challenging us, enabling us to grow in our devotional life alone and with our household. Might a household (or individual) be avoiding God's challenge by watching and surfing for too many online service options? As I said in the previous post, on the spectrum from observing to praying, might our online worship experiences be more towards the former end of that spectrum?
Certainly, for those leading online worship, watching ourselves can be salutary. Too many sermons IRL are simply read theology papers (I regularly advocate that you video yourself from time to time in your IRL services and sermons). The read-feeling dullness is magnified when you are addressing your phone or laptop in order to make a recording. Significant times of silence are important IRL worship; they may have little place in online worship. Three readings and a psalm are a good standard IRL; might we encourage an individual or household to pause a recording while they work through readings and discussion in that home and then return to the recording? Less is more. I'm suggesting that, if you are used to a 75 minute Sunday service, you might instead have a shared, online component, and also encourage an at-home component.
I hope, as we reflect, that we can be generous and charitable as people try to do their best in this unprecedented context. On the other hand, if we can reflect generally (rather than pointing to individuals), genuine, deeper reflection is helpful to move us forward.
From here, we will go on in a future post to reflect on our liturgical agreements and then on to some of the theology – including the debate about the possibility (or not) of remote eucharistic consecration.
Do add further different styles (without publicly exposing/disclosing individuals) in the comment section below, or any reflections on the points above.
As well as the previous post in this series, here are some of the other resources and reflections on this site:
Exsultet
Holy Saturday in a Covid19 World
Maundy Thursday, Good Friday, and Easter in a Covid19 World
Coronavirus solitude self-isolation and spirituality
Streaming services, online spiritual resources in coronavirus times
New Zealand Prayer Book Daily Prayer
NZ in lockdown
Covid 19 moves churches into the Third Millennium
Spiritual Communion
Carthusians Covid-19 and Communion
Learning from Hermits in a Covid19 World
Similar Posts: