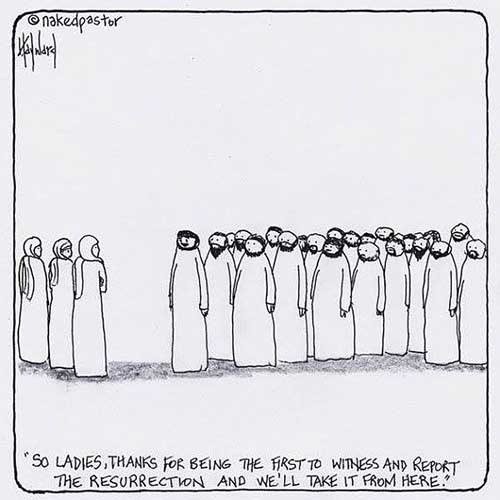 It was probably three or so decades ago that I first came across the contention that the Fourth Gospel (normally attributed "according to Saint John") originates with Mary Magdalene.
Recently, I heard an Easter Season sermon where Mary Magdalene was identified with the repentant prostitute. There is, of course, no biblical evidence for that identification. It is a conflation that developed in the West (but not in the East) and was set in concrete by Pope Gregory the Great, around 591. Recently, I was reminded of the way we treat her by the cartoon by David Hayward. Rev Susan Russell called it, "Easter Monday: AKA The Feast of the Mansplaining of the Resurrection". I certainly spend a lot of time explaining the Resurrection: no, it was not resuscitation – divine CPR; no, Jesus did not die again; no, God does not have a right hand for Jesus to sit on; …
And also recently, I came across this article by Ramon K. Jusino suggesting that, perhaps, Mary Magdalene is the anonymous unsung voice of the Beloved Disciple of the Fourth Gospel and, therefore, its primary author.
Certainly, hand the following text to someone who has no idea what is going on, and the normal reading would be that the disciple whom Jesus loved was Mary Magdalene:
standing near the cross of Jesus were his mother, and his mother's sister, Mary the wife of Clopas, and Mary Magdalene. When Jesus saw his mother and the disciple whom he loved standing beside her, he said to his mother, 'Woman, here is your son.' Then he said to the disciple, 'Here is your mother.' And from that hour the disciple took her into his own home. (John 19:25-27)
After being told by Mary Magdalene that the body of the Lord was missing, Peter and the disciple whom Jesus loved run to the tomb to find it so – followed by Mary Magdalene standing by the tomb weeping. (John 20:1-11).
Ramon Jusino's article works through the use of male pronouns and having Mary Magdalene and the Beloved Disciples seeming to be two separate persons in the same scene.
In any case, would it feel any different if this gospel has Mary Magdalene as its primary author? There have been suggestions that other parts of the scriptures were produced by women. What difference might that make? To you?
If you appreciated this post, do remember to like the liturgy facebook page, use the RSS feed, and signing up for a not-very-often email, …
Similar Posts: