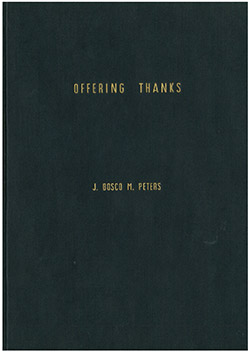 I am delighted to announce the online version of my research on the development of Eucharistic Prayers – from the prayer at formal meals (such as the Last Supper) to the fourth and fifth centuries (with particular reference to Antiochene and Alexandrian Rites). Until now this was only available through libraries or from me.
This is an amazing detective story which helps to understand the structure that is still evident in and renewed in Eucharistic Prayers to this day. You also find parallels of this structure in other Christian prayers – of blessing, ordination, and so on.
You can download my research here (3.2MB) or read it online at Scribd (or download it from there).
I have previously similarly made available my thesis The Anglican Eucharist in New Zealand 1814-1989. There are obvious connections between these stories.
So enjoy reading the story.
As I did for my thesis, as well as this blog post announcing its online availability, I have produced a permanent page for this research: Offering Thanks.
If you appreciated this post, there are different ways to keep in touch with the community around this website: like the facebook page, follow twitter, use the RSS feed,…
Similar Posts: