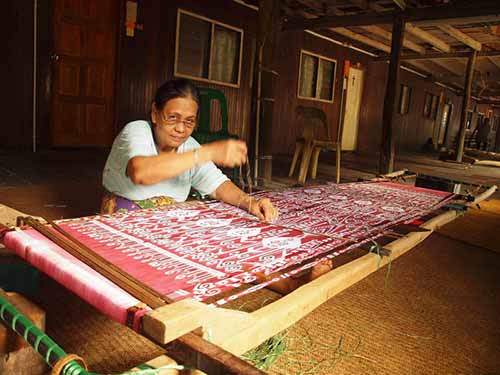 My life is but a weaving between my God and me,
I do not choose the colours, He worketh steadily.
Ofttimes He weaveth sorrow, and I in foolish pride,
Forget He sees the upper, and I the underside.

Not till the loom is silent, and shuttles cease to fly,
Will God unroll the canvas and explain the reason why.
The dark threads are as needful in the skilful Weaver's hand
As the threads of gold and silver in the pattern He has planned.
A friend of mine, having just discovered the above poem, posted it on his facebook page, and in the conversation I realised that, although I have found it helpful and used it in sermons and services and tragic funerals, I have never posted it as a resource on this site.
I learnt to weave, and I wove my own stoles. My father was an expert on Persian carpets and Kilims. In some weaving traditions, the weaver begins with a pattern, a plan, but mistakes are inevitable. Things do not go according to plan. The master weaver is one who can incorporate the "mistake" into a new, unique masterpiece. That is another weaving metaphor for God.
I've found the poem attributed to Corrie Ten Boom. I'm not sure if that is correct. My friend's version has an additional stanza:
He knows, He loves, He cares;
Nothing this truth can dim.
He gives the very best to those
Who leave the choice to Him.
I think the poem is better without that.
If you appreciated this post, do remember to like the liturgy facebook page, use the RSS feed, and signing up for a not-very-often email, …
In my many travels I have often sat with weavers all over the world. I am sure that I have photos of weaving like the above image but at present I do not have the extra time to dig one out.
Similar Posts: