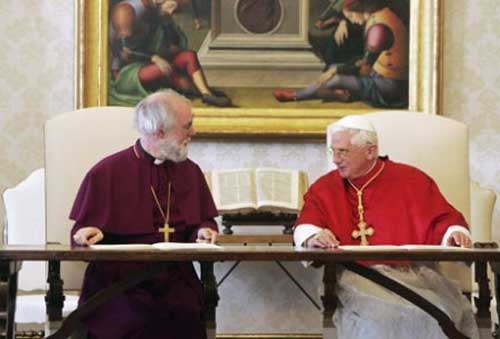 BREAKING NEWS
In a move that has taken many by surprise Pope Benedict XVI and Archbishop of Canterbury Rowan Williams today signed an agreement on sacraments in cyberspace. The document, In recognitionem sacramenta in virtualis mundi (IRSIVM), has been years in the preparation. Theologians were caught out by the rapid growth of cyberspace and the development of such things as a cathedral in Second Life and online chapels.
Most theologians initially rejected any talk of sacraments in the virtual world. Then the Bishop of Wellington decided to provide oversight for the Cathedral in Second Life. Since that time a joint Anglican-Roman Catholic commission has been working virtually around the clock. The top-secret commission was called SACRAMENT (Sacraments for Anglicans and Catholics Real Alternative Meanings Evolving because of New Technologies) and included top-level representatives from the Vatican and from the Anglican Communion. Observers were provided by the Eastern Orthodox and the Old Catholics who had speaking but not voting rights. Anglicans and Catholics have a similar approach to sacraments and were able to come to agreements in the virtual world that no one has yet managed in "first life". The Old Catholics, who are in full communion with the Anglicans, may sign up to the agreement after the next meeting of their International Bishops Conference (IBC) but the Orthodox have a different approach to sacraments and are slower to be enthusiastic about the agreement.
The agreement has been put under the patronage of St Hugh of Grenoble (apparently St Melito of Sardis was a second option).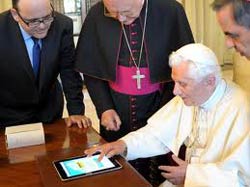 In recognitionem sacramenta in virtualis mundi draws on the traditional theology of "Baptism by desire" (Baptismus Flaminis)and "spiritual communion" that both Anglicans and Catholics accept. The grace of some of the sacraments may be provided even though the "outward sign" is not materially present ("Symbolum rei sacrae, et invisibilis gratiae forma visibilis, sanctificandi vim habens"). The document draws extensively on Augustine, "In nullum nomen religionis, seu verum seu falsum, coadunari homines possunt, nisi aliquo signaculorum seu sacramentorum visibilium consortio colligantur" (Reply to Faustus XIX.11).
There are some conditions and exclusions in the document. Marriage and Ordination cannot occur solely virtually (IRSIVM 4:7 & 5:2). Virtual baptism and absolution must be followed as soon as practicable by baptism or absolution in "first life" (IRSIVM 3:6 & 7:3). Many theologians have been drawing on the doctrine of ecclesia supplet (the "Church supplies" what is lacking in an action). In the end the document does not condone this avenue of thinking but leaves this path open to further study. "Ecclesia non supplet quod Ecclesia non habet" (IRSIVM 9:7).
The Vatican has been embracing cyber-technology significantly. The Anglican Communion is quickly catching up, and has decided to appoint the next Archbishop of Canterbury by whichever Church of England bishop has the most twitter followers.
The Sunday nearest to the feast of St Hugh of Grenoble will be known as CyberSunday. The Archbishop of Canterbury, reading the statement from his iPad3, was clearly enjoying this breakthrough just prior to his retirement. "His holiness and I want to be as utterly persuasive as we possibly can by making determinedly recognisable that April First is fittingly, appropriately recognised and acknowledged both in our mutual churches, and also in this new, and if may say exciting, area for evangelism – cyberspace."
Similar Posts: