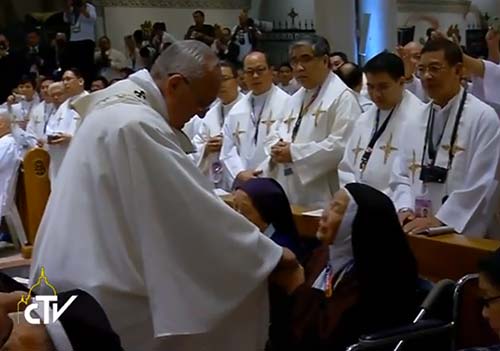 Many readers here will remember the tightening-up under Pope Benedict of the RC Sign of Peace rules. "Abuses" were to be stopped, such as the departure of the presider from the sanctuary in order to give the sign of peace to some of the faithful, and the exchange of peace being the occasion for expressing congratulations, best wishes, or condolences among those present.
I noted that many contemporary church buildings did not have a separate "sanctuary" from which the presider could depart. Others had noticed that also, so the rules were clarified that the presider was not to depart from the altar.
I also noted that Pope Francis was a sabbath-was-made-for-us type of person when it comes to church and liturgical rules, and I predicted:
It would not surprise me to discover Pope Francis on occasion leaving the sanctuary/altar to offer the Sign of Peace. He seems that sort of person. I have thought from the start that in his papacy I would be surprised to see energy expended in reworking the rules and rites and translations legacy of Pope Benedict. But I do think that his style of living with liturgical rules sets a different focus – he refocuses that the rules are not there for their own sake, they are there for worship, for community, and for our relationship with God.
So, do click on this video clip below, thinking as you watch it: "Bosco said this would happen."
Similar Posts: