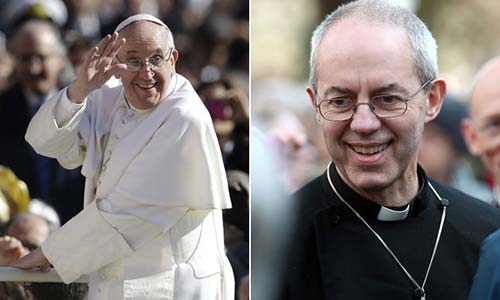 On the feast day of St Melito of Sardis (April 1) Pope Francis made a surprise visit to the little-known Vatican parish church dedicated to the saint.
Ever the contemporary pope, in his off-the-cuff remarks Pope Francis mentioned he had been skyping the new Archbishop of Canterbury, and gave hints that since there has been full communion between Anglicans and Old Catholics from the 1930s, this means that the [Vatican] judgement of Apostolicae Curae [against the validity of Anglican orders] no longer holds.
Having upset conservative Roman Catholics with his Maundy Thursday footwashing (more about that in a future post), the Pope is bound to cause further debating in now quoting one of his predecessors, Blessed John XXIII, "I am only infallible if I speak ex cathedra but I shall never do that, so I am not infallible."
Those who have been struggling with some of the English language clangers of the new translation of the Roman Missal have been heartened by the simpler style of Pope Francis, and in other Vatican breaking liturgical news, he has initiated the possibility of allowing a "Common Form" (based essentially on the agreed but later Vatican-rejected 1998 translation), as an alternative English translation. The Common Form would sit alongside Pope Benedict's Ordinary and Extraordinary Forms.
Also on this same day (April 1), the Archbishop of Canterbury, caught by journalists jogging in the early morning in purple lycra, let slip that his plans for the 2018 Lambeth Conference include the hope not just of inviting Pope Francis to be present, but to actually chair the indaba-style Lambeth Conference.
The above paragraphs may look like separate stories, but cumulatively could be a leaping over now-irrelevant past difficulties between the Anglican and Roman Catholic churches.
Some reformation of both churches could further this surprising trend. An example: both the Church of England and the Roman Catholic Church do not practice local decision-making in determining who will be the local bishop. "If both churches could agree to return to the practice of the early church of locally choosing a bishop, there is a hope that, in the change-over, Roman Catholics and Anglicans could share together in agreeing to a local bishop who oversees both communities as they draw closer together."
Infallibility, universal jurisdiction, and secular interference have long been sticking points between Anglicans and Roman Catholics. With the Bishop of Rome leading the Lambeth Conference, renouncing his use of infallibility, and a return to previously accepted ways of deciding on bishops – an ecumenical Spring is in the air.
There are also rumours of a possible Vatican III. But the Pope who said, "Don't fly for me Argentina" is unlikely to agree to the expense of all bishops in Rome for four years as previously. Far more likely, taking the cue from the Francis-Justin skyping news, is a virtual meeting of all bishops. "A sort of Vatican 2.5 is possible", says Archbishop Aprilis Stulte, the man known to be responsible for the Pope's twitter account. "We are working on a new, fast communication system where hundreds can communicate at the same time – all around the Catholic world; a sort of more powerful version of Google+ Hangout." He won't be drawn on, if this Vatican technological advance proves successful, whether it would be commercially marketed, but he does let slip that, "Yes, it is not impossible that Anglican bishops could, under this new Pope, be full participants in such a council."
No one is suggesting that the road ahead will be an easy one for reunion between the churches. Hurt goes deep and the history is complicated. Major discussions loom about who will wear what, where do they come in processions, and what titles people will have, and will they retain those titles when they actually leave those positions? "For many this goes to the very heart of the Christian faith, way ahead of who may love whom and how."
But there is now real hope. As the Pope hops on the bus that goes from St Melito of Sardis Church to Domus Sanctae Marthae, Pope Francis blesses the surprised fellow occupants on the bus in Latin: "Bene habere bonum Aprilis Stulte 'Dies."
This site has been in the forefront of keeping people informed of these breakthrough developments. See also here and here.
If you appreciated this post, there are different ways to keep in touch with the community around this website: like the facebook page, follow twitter, use the RSS feed,…
Similar Posts: