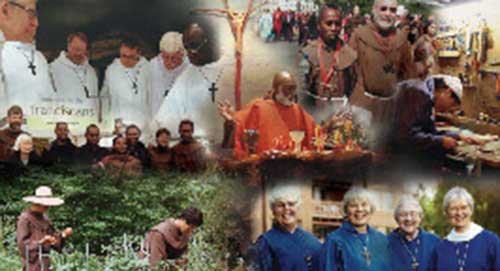 I was in the congregation at a parish Eucharist recently – not a huge congregation, maybe around a hundred. There was a good age range. Young people were having fun leading music with a ukulele group. A sister from the Community of the Sacred name was towards the back. A Franciscan brother was preaching. There were single people, separated people, widows, widowers, couples, young marrieds with no children, grandparents, young families… Isn't this how it should be? Isn't this how, in most places it could be? Why is it too often not like this?
Sometimes, is there so much of a focus on identifying our inclusivity or exclusivity around gender and sexuality that other spectrums become invisible; that other ways of "classifying" people is ignored?
Where are the brochures, as we walk into any church building, talking about the vocations of celibacy, being single, divorced, widowed,…? Where are the links on our websites to religious orders, or how single people might find companionship (no, not dating) within our communities, shared community homes…? Are we exploring people giving a year or more of our life to a community experience with monastic-like dimensions…? What can communities learn from religious orders that have marrieds as full members? From new monasticism? [eg. I can find no reference on the website of my diocese to the order of sisters founded in this diocese in 1893 and living since then in this diocese and around the South Pacific!]
I was recently on retreat at the New Zealand Cistercian monastery. There is something irreplaceable about a community of celibates – around them there are companions, guests, and associates; and the monks are leading contemplative life – they aren't merely doing this in our stead. Then I was blessed to visit, for the first time, St Isaac's Retreat in Opononi, and spend time with Sr Anne of the Sisters of the Love of God.
What is it about Kiwi culture that religious life has such a weak track record here? The beauty of our country, many would think, should naturally lead to deep spirituality and a contemplative bedrock – but on sunny days, where do you find most kiwis congregating – in a park, forest, beach? No, go and try and get a car-park in one of our many, many, many shopping malls!
top image source
Anglican novices image source
Similar Posts: