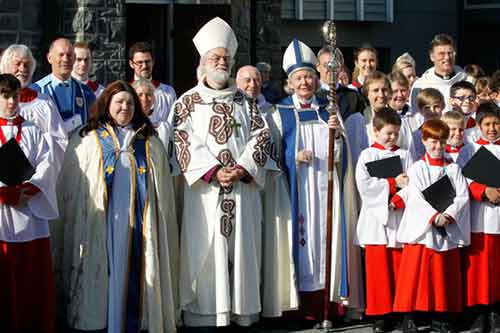 Yesterday I spent a majority of the day at events with the Archbishop of Canterbury. He was visiting Christchurch (in NZ's province of Canterbury) in a break during the meeting of the Anglican Consultative Council.
The day began with a cathedral service at which he presided and preached. The cathedral community are guests at Christ's College where I serve as chaplain. I'm towards the right in the photo above (and at 1:36 in the TV news-clip).
Others have written eloquently of the visit (Rev. Peter Carrell; Fr Ron Smith; Rev. Brian Thomas; stuff.co.nz).
With my time restraints I will just add a few other points to the excellent information provided.
During the day I listened to three addresses from the Archbishop. All of them were deeply learned and totally accessible. His own deep relationship with God shone humbly through. In the afternoon I was with a group of my students at a young people's opportunity to ask him questions.
One question was on the church and young people. The archbishop stressed – don't sell young people short. The church's reaction is so often, he said, to attempt to entertain and think there is a need to prevent boredom. This is not taking young people seriously. Traditional resources have depth; people want to grow. And traditional resources allow this ongoing growth.
In a service in which the prayers identified church=parish, it was good to have the Archbishop remind us there are other ways of being church [school is an example that springs immediately to my mind]. In the CofE Fresh Expressions has engaged about 30,000 people (that's about the number in Anglican Churches in NZ yesterday).
Another question was on priesthood. The archbishop said he could not emphasise enough the importance of rigorous, deep preparation and formation for priesthood. And prayer. My day with the Archbishop reinforces these points. Here is someone who is deeply academically grounded, able to translate these ideas to make them accessible to all, and doing this not as a purely academic exercise, but as part of, and nourishing, a deep relationship with God. Here is someone who speaks out of the tradition of lectio divina, and contemplative leadership.
Similar Posts: