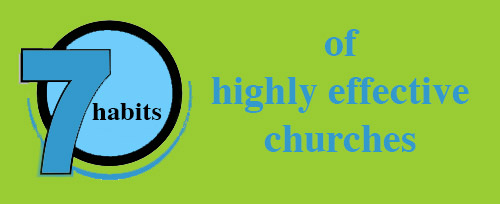 Habit 2 – Be Welcoming
Imagine, for a moment, being a new person arriving at your church. How could you have found out about the church, about the service? How are you greeted when you come through the door? Be honest.
If you have never been to church before, ever, what is your experience? If you have never been to this type of church before, ever, what is your experience? Be honest.
If you are coming to church because your wife just walked out on you… if you are a young mum arriving with three young children… if you are a teenager… if you are just retired into the area… do you feel welcome? Do you feel included in at least some parts of the service, or is the theme so constraining there is hardly a moment that you connect with? Is everyone in suits, how do you feel dressed casually? Is everyone dressed casually – how do you feel in a suit? Are you a young man in a building full of older women? Does this church clearly not want real children present in its worship?
ἦσαν δὲ προσκαρτεροῦντες τῇ διδαχῇ τῶν ἀποστόλων καὶ τῇ κοινωνίᾳ τῇ κλάσει τοῦ ἄρτου καὶ ταῖς προσευχαῖς
They devoted themselves to the apostles' teaching and fellowship, to the breaking of bread and the prayers. Acts 2:42
κοινωνίᾳ koinonia fellowship
Enabling people to experience welcome and be included is a ministry of all the baptised. Ordinary human practices of welcoming and general politeness of human encounters are sometimes (often?) missing at the church door, and so (regular, ongoing) training of welcomers may be required. Including not being overbearing. How to help people throughout a service, how to relate to children present may (let's continue being honest with ourselves) need to be talked about from time to time.
The ordained and other leadership have a particular role in allowing all to feel included.
I walked in unexpected into a church service. Yes, the priest had met me before, but well out of context, it was a delight to be greeted by name. The priest was greeting all by name, and continued doing this throughout the service. The priest found out the names of visitors and remembered them. There was an easy flow to the cuppa following the service. Other members of the community approached naturally. The community was packed and obviously growing, clearly knew each other, cared for each other, and for newcomers. If you lived there, you would happily join this community.
At another church there was a general invitation from the front to the small congregation to the cuppa following the service. But no specific instructions. Shaking hands on going out, there was no interest if I was new to the area or a visitor, and nothing about the cuppa or where it was. I got completely lost between the church building and the obscure small room for the cuppa. Persevering, I was not approached there, and finally did the approaching. A young woman in her early 20s described her similar experiences to me, including not finding the cuppa on her first visit. She returned to church because of her commitment.
What can you add about this second habit: helping people experience welcome and being included?
The first habit is: Focus on God
Similar Posts: