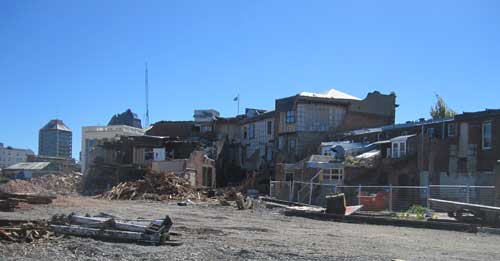 Christchurch "city" is glum, grey, and empty. Acres of empty grey spaces, rubble, and the ever-present sound of cascading debris, and metal dinosaurs chewing their way through munted buildings.
Fog and grey skies. That's not even mentioning the people sleeping out in cars, vans, etc. because they have not been helped yet after quakes a year and a half ago… At night the centre of the "city" is dark.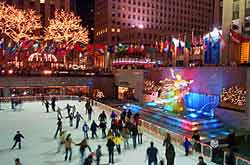 In the Northern Hemisphere, at this time in the seasons, Winter Solstice, people would be wrapped up celebrating Hanukkah and four days away from Christmas. Lights would be everywhere, in shop windows, outside and inside homes… carollers on corners, special services, excitement counting down to sharing gifts,…
Here: fog, grey skies, rubble, a foreboding and empty "city", scaffolding,…
In the Northern Hemisphere the lights, music, feasting, singing, gift-giving, excitement are all tied intimately to religious festivals…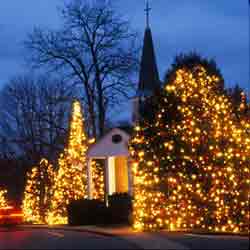 How long has Christianity been in the Southern Hemisphere? What local traditions do we have to show for it (Yes, the second Sunday after Pentecost is celebrated by some Anglicans Downunder by celebrating the Feast of the Church's Constitution!)
Matariki, the rising of the constellation of the seven stars of the Pleiades, should be a gift for us down here. Lights… Seven-branched candlestick – lighting one new candle each day… Where is all the liturgical creativity… The church should be leading the way…
ps. I gather we are going to get about 20,000 workmen moving into Christchurch for the rebuild. That's a couple of parishes worth. Of men. Males for those who don't understand contemporary inclusive language. With good incomes in a city with not much happening. I'd be interested in the church's strategic planning about that… And wondering about the culture that we might end up building in the new Christchurch…
First photo is mine; source of second photo; third photo.
Similar Posts: