[et_pb_section admin_label="section"] [et_pb_row admin_label="row"] [et_pb_column type="4_4″][et_pb_text admin_label="Text"]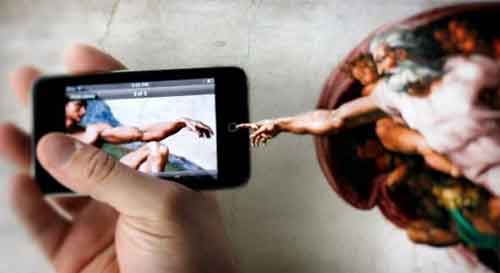 You don't have to spend much time on the internet to realise that it can magnify human good and human bad. People say and do things digitally that they wouldn't do In Real Life. But I think the internet acronym, IRL (In Real Life), belies our new normal – online is now integral to our real life.
On this site (and elsewhere), I have said many times in different ways:
I remind especially new commenters here that the culture of this site is light over heat – no anonymous comments (unless in exceptional cases where your normal name would make you vulnerable); no ad-hominem comments. Remember, there are real people we are talking about, and real people reading what we write here.
The Archbishop of Canterbury recently launched social media community guidelines:
The THINK acronym may be useful. Before posting anything online, ask yourself, is it:
True?
Helpful?
Inspiring?
Necessary?
Kind?
Here are 10 Digital Commandments:
1. Don't rush in
"Responding quickly doesn't mean doing so without due consideration"
2. Transient yet permanent
"Social media updates are immediate and will outdate quickly BUT they can have a more lasting impact"
3. You're an ambassador
"If talking about a church matter, make it clear that these are your personal opinions"
4. Don't hide
"Anonymity and 'hiding' behind aliases when using social media is frowned upon"
5. Don't blur private life boundaries
"There are risks associated with personal opinions being seen as public statements"
6. Be aware of safeguarding
"The informality that social media encourages can mean that it might be harder to maintain a professional distance"
7. Don't share certain images
"Make sure you have permission from anybody who features in the image before sharing"
8. Stay within legal frameworks
"If you wouldn't say something in a public meeting or to someone's face – don't say it online"
9. Keep confidences
"Remember: Is this story mine to share? If in doubt, don't"
10. Be mindful of your security
"Don't overshare personal information"
And recently, Bishop Steven Croft, of the Diocese of Oxford, connected The Beatitudes and social media:
Blessed are the poor in spirit, for theirs is the kingdom of heaven.
I will remember that my identity comes from being made and loved by God, not from my online profile.
Blessed are those who mourn, for they will be comforted
This world is full of grief and suffering.I will tread softly and post with gentleness and compassion.
Blessed are the meek, for they will inherit the earth.
I will not boast or brag online, nor will I pull others down.
Blessed are those who hunger and thirst for righteousness, for they will be filled.
There are many wrongs to be righted. I will not be afraid to name them and look for justice in the world.
Blessed are the merciful, for they will receive mercy.
I will not judge others but be generous online. I will be conscious of my own failings.
Blessed are the pure in heart, for they will see God.
I will be truthful and honest, and I will not pretend to be what I am not.
Blessed are the peacemakers, for they will be called children of God
I will seek to reconcile those of different views with imagination and good humour.
Blessed are those who are persecuted for righteousness' sake, for theirs is the kingdom of heaven.
I will not add to the store of hate in the world, but I will try to be courageous in standing up for what is right and true.
What do you think?
If you appreciated this post, do remember to like the liturgy facebook page, use the RSS feed, and sign up for a not-very-often email, …
[/et_pb_text][/et_pb_column] [/et_pb_row] [/et_pb_section]
Similar Posts: