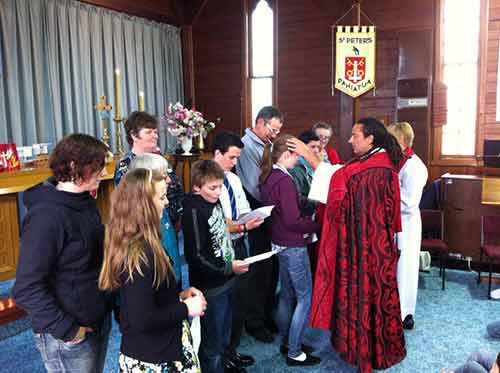 I'm sure we can all get into an unquestioned way of doing things.
For confirmation I'm used to seeing people kneel, facing liturgical East (in the same direction as the congregation, so those being confirmed have their back to the congregation), with the bishop laying on hands facing liturgical West. Within the safety of this digital community here I'm also interested and acknowledging that I've never really thought if there's a different/better way to do it. [You all know I take care to think through most liturgical traditions…] So I was delighted to fall over images from St Peter's Anglican Church, Pahiatua, where Bishop Justin Duckworth is confirming people – they are standing and facing the congregation.
I'm delighted to see an online presence which gives the impression of a vibrant small parish.
I know some of the readers here will have reached for Prayer Books to check confirmation rubrics. A New Zealand Prayer Book He Karakia Mihinare o Aotearoa has "The candidates being conveniently placed, the bishop continues…" TEC's BCP and CofE's Common Worship similarly say nothing about posture etc. at the laying on of hands.
Similar Posts: