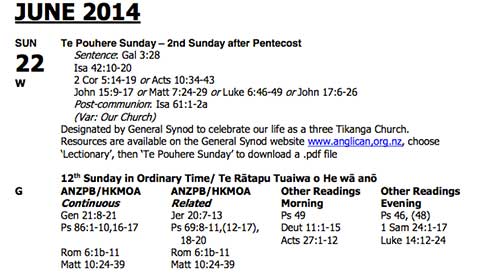 You know those exam questions that have a statement, and then just add, "Discuss". This post could be thought of like that (I suppose all posts here could be thought of like that).
The dynamic (I'm choosing that word on purpose) of the 3-year Revised Common Lectionary, of the Church Year, of the Bible actually, is that it tells stories of our God who acts. We celebrate the great acts of God. That's also a rediscovery in the renewed Eucharistic Prayers – we proclaim together the mighty acts of God.
NZ Anglicans tried for a while using a themed, home-grown, 2-year Sunday lectionary. You can imagine why year after year of "Our lives", "Our homes", "Our neighbours", "Our country" wore pretty thin, with readings chosen from a fat, black, floppy, Bible concordance…
Trinity Sunday sticks out in the Church Year. Rather than being the story of an acting God, it is the celebration of a doctrine…
And a week later many Anglicans in Aotearoa, New Zealand and Polynesia celebrate Te Pouhere Sunday. Te Pouhere is our church's constitution. Not the celebration of our God who acts. Not even the celebration of a core doctrine. This is an annual Sunday devoted to our church's constitution – complete with (unchanging) propers (readings, collect,…).
I have no issue with focusing on particular things on a Sunday: Refugee Sunday, AAW Sunday, Vocations Sunday,… but I really struggle to see why you would abandon our agreement to share in the international, ecumenical readings, and tie everything so constrictingly up with a tight bow by changing the readings to restrain to the tight theme as well.
If you follow RCL for this Sunday you will have
Gen 21:8-21 with Isaac and Ishmael playing together (Te Pouhere)
Psalm 86:1-10, 16-17 nations together (Te Pouhere)
etc.
If you cannot add Te Pouhere into a service through a hymn, or the prayers, or the sermon and use the readings of RCL then you should not hold responsibility for Christian worship leadership.
Discuss.
Similar Posts: