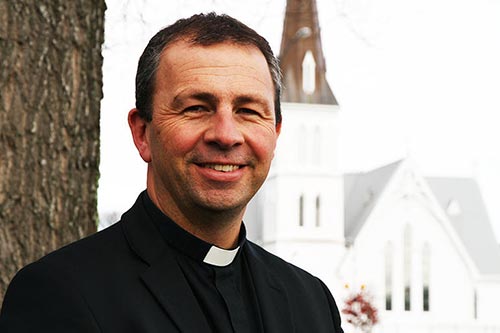 Update 18 October 2014 Thoughts and prayers for Andrew Hedge, his family, and the Diocese of Waiapu as today he is ordained bishop, and installed as the 16th Bishop of Waiapu. You can light a candle in the online Chapel.
I am delighted with the announcement that my friend Andrew Hedge has been elected as the 16th bishop of Waiapu.
Andrew (41) grew up in Papatoetoe, in South Auckland. He trained for the priesthood at St John's College and was ordained priest in 1999. He was an assistant priest at All Saint's Howick and then served as chaplain to King's School in Auckland for seven years. He served as President of NZARETSC (The New Zealand Association of Religious Education Teachers and School Chaplains). He was appointed Vicar of Cambridge, his current position, in 2008. He is is married to Raewyn, and they have three children – Jessica (15), Ethan (12) and Caitlin (10).
I have always found Andrew insightful, caring, intelligent, spiritual, with a good sense of humour, and committed to all that is best in Anglicanism, including quality formation, study, and training.
Andrew has a strong connection to this website. He took to heart the suggestions here on how to produce a website for free and runs one of the best examples I know of, with podcasts, videos and live-streaming of services such as funerals.
He moves to Waiapu Diocese at a dynamic time in its diocesan life. It is not the easiest time to be a bishop – so let's pray for Andrew, Raewyn, their family, the diocese, the church and wider community. You can use the online chapel, and even light a candle.
Nice write-up by TV3 "Ambo officer does God's work in Cambridge". Is the ambiguity of "ambo" deliberate or accidental?
Further articles: NZ Herald and Australian Associated Press.
image source: Andrew Hedge outside St Andrew's Church, Cambridge, where he is currently vicar.
Similar Posts: