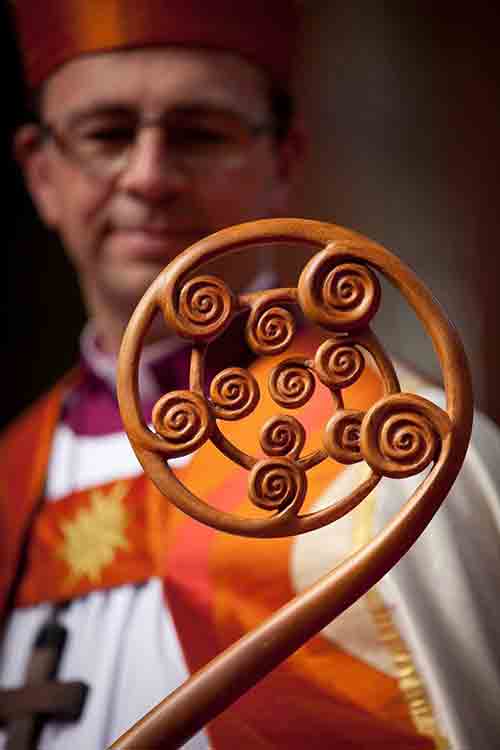 My friend Andrew Hedge was ordained bishop last Saturday and installed as the 16th Bishop of Waiapu. Andrew Gordon, from the Diocese of Waiapu, designed and produced a crozier with a difference. It retains the concept of shepherd's crook and incorporates the image of a koru.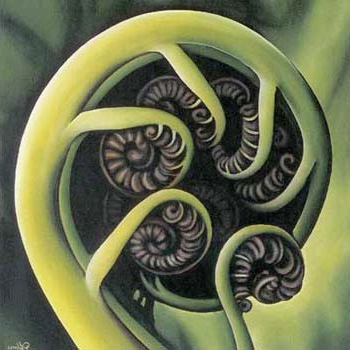 "The koru (Māori for "loop") is a spiral shape based on the shape of a new unfurling silver fern frond and symbolizing new life, growth, strength and peace.
It is an integral symbol in Māori art, carving and tattoos. The circular shape of the koru helps to convey the idea of perpetual movement while the inner coil suggests a return to the point of origin."
So there is also making connections with Māori.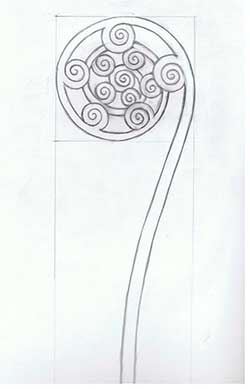 Andrew Gordon, the artist, says, "the crozier design has been interpreted differently from the crook shape in prevous times and some old ones do grow leaves .. I had a Punga frond drawing from a previous work but collected an unfurling frond from the Waihirere bush close to here. The concept changed as I designed so it became lighter and more open than the original drawing. I still wanted it to hint of the Crozier shape and the idea of the implement to shepherd ones flock..So hopefully you get the feeling of a living implement, rather than a static tool."
Andrew Gordon's mention of earlier croziers that have leaves reminds me of the abbot's crozier at the Cistercian monastery, Kopua, where I am an Associate. You can see it in this video (at 1:47). I understand Kopua's crozier design is taken from a (possibly 12th century?) French Abbey. Andrew Hedge made his pre-episcopal-ordination retreat at Kopua.
Furthermore, he had asked my friend Elizabeth Kimberley to design a cope and mitre that would be plain and not flashy.
So the cope is a relatively simple affair – white trimmed with copper-toned orphrey (the panels at the front edges) and morse (the top connecting band).

The colours are symbolic of East Coast harvests, landscapes and beaches – and they are highlighted by flowing bands that symbolise pathways and pilgrimages, so dear to Waiapu's recent history.

But it's the hood at the back of the cope that really says something about a bishop who has an appetite for down-to-earth service.

It's embroidered with a Maltese cross, the symbol of the Order of St John, the ambulance service for which Andrew Hedge has done weekly shifts in Cambridge, and will continue to serve in Waiapu.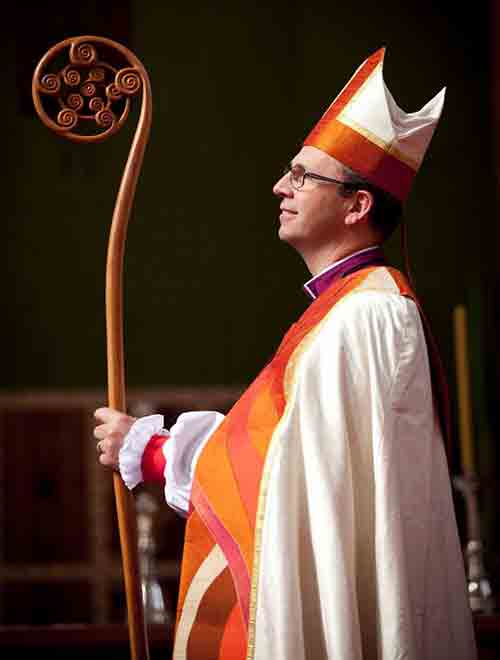 Click here to see a photo of Andrew Gordon, the artist, with the crozier he designed and made.
Source of photos: Luci Harrison Photography
Similar Posts: