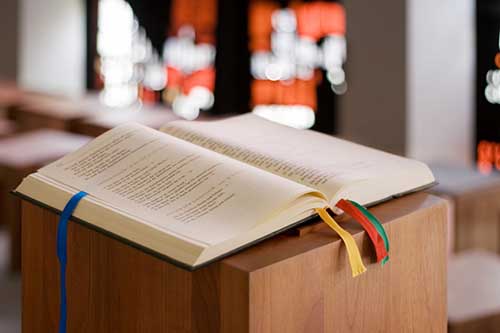 In worship, we conclude reading from and listening to the Bible with the declaration that this is "The Word of the Lord", or "Hear what the Spirit is saying to the Church."
The Reformation heritage has that God speaks to individuals (and communities) through the Bible. But again and again I see pastors, worship leaders, and preachers effectively deny and undermine this Reformation insight in their practice.
1) They reduce the number of readings provided by the Revised Common Lectionary in order to be able to preach on all that is read. They will not have something read from the Bible without explaining it in the sermon. Or
2) They don't have readings from the Bible at all, but only quote from the Bible to illustrate points within their sermon.
The real message that congregants receive is that they cannot be trusted to hear God speaking through the Bible. Everything has to be interpreted by the pastor, by the preacher. The real message is that this community is not open to listening to God speaking to individuals and the community through a reading from the Bible without any further preacher's reflection or pastor's interpretation.
Good liturgy has quite a different approach. The Revised Common Lectionary provides three readings and a psalm for the community and individuals to engage with. These readings mostly are unconnected to each other within that service, and what speaks to one person may not be the message for another. The intent in liturgy is that we listen together to what God is saying through the Bible. The sermon merely adds another pebble into the rippling pond of the service. The sermon is not the sole conduit for God's message through which the Bible's texts must pass.
Those who most strongly say they stand on the Reformation are often the worst violators of letting the Bible speak unfiltered.
This is the insight of Roman Catholicism in the Second Vatican Council, the insight that led to the three year lectionary and the Revised Common Lectionary:
in the sacred books, the Father who is in heaven meets His children with great love and speaks with them; and the force and power in the word of God is so great that it stands as the support and energy of the Church, the strength of faith for her [members], the food of the soul, the pure and everlasting source of spiritual life. Consequently these words are perfectly applicable to Sacred Scripture: "For the word of God is living and active" (Heb. 4:12) and "it has power to build you up and give you your heritage among all those who are sanctified" (Acts 20:32; see 1 Thess. 2:13).
Similar Posts: