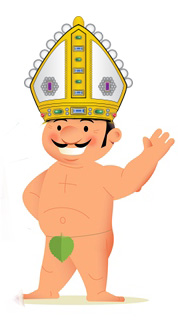 [Update 7 September 2013: the Christchurch diocesan synod has just resoundingly agreed with me and not given assent to the Statute 699 below]
The Christchurch diocesan synod in 2011 unanimously and with applause called on the Anglican Church of Or to stop authorising new liturgical stuff until it had produced a straightforward report which makes clear
1) what is required,
2) what is allowed, and
3) what is forbidden
A motion to this effect was put on the agenda of General Synod Te Hinota Whanui (GSTHW) 2012. But GSTHW was too busy passing legislation on adding another "or" to our already confused and confusing regulations to even discuss Christchurch's concerns.
Apparently we have not been allowed to have "nautically festive activities… in this Church" on Sundays other than the 2nd Sunday of July. We cannot pray for seafarers, or sing "Eternal Father, strong to save… For those in peril on the sea!"
So legislation was prepared that was passed by GSTHW 2012 and now needs to be debated and voted on in all diocesan synods and hui amorangi. Then it needs to be debated again at GSTHW 2014, await a year for anyone to protest, and then you will be allowed to pray for seafarers, sing "…for those in peril on the sea", and choose any Sunday that "delivers weather … conducive to … outdoor nautical activities".
No – check the date, this is not my latest April Fools' post. Wait till you read the actual legislation. You know I am not making this story up because I couldn't have thought of it!
Apparently this legislation was kept in a room where they had forgotten to change the blown light bulb, or something like that, because the legislation has only now (after more than a year) been sent on to our diocese for our debate. As our synod is in two weeks time, and insufficient notice has been given, there will also have to be another debate and vote whether to allow this motion onto the synod floor at all.
One of the worst aspects of this whole silliness is that it reinforces the commonly-held misconstruction that liturgy is about irrelevancies that waste time and energy, sucking the real life and mission out of the church. Jesus said something about gnats and camels. The understanding that liturgy is the very heart of our church's life will take another generation to recover – if it is ever.
Lipstick on a pig?
The best we might be able to do as a diocese is to disallow this motion from being debated on our synod floor, and urge our GSTHW members to work for a moratorium on all liturgical legislation until our request for the straightforward report mentioned in the first paragraph above, is actioned. If we accept that this legislation be debated on our synod floor, we have now received information that our planning to discuss how to go forward in our earthquake-ravaged diocese would have to be re-timetabled.
I urge all other dioceses and hui amorangi to be similarly proactive in renewing the true focus of the common prayer and shared spiritual discipline at the heart of church life. Do not pass this legislation – instead, urge GSTHW to be honest, and review the liturgical mess of our province, and set in motion a programme of recovery and renewal.
This is (I am not making this up!) the legislation that is being debated twice at GSTHW and at every diocesan synod and hui amorangi:

Statute 699

The Calendar – Te Maramataka Amendment Statute 2012

Noting that:

(a) The General Synod / te Hinota Whanui by Statute 456 in 1988 confirmed the adoption of The Calendar – Te Maramataka as a Formulary, and

(b) The May 2011 Conference of the Oceania Council for Missions to Seafarers drew attention to the historical date for Sea Sunday on the Second Sunday of July being chosen to suit the, at the time, predominantly English Mission to Seafarers, and is thus in the height of a northern hemisphere summer, when weather permits more easily nautically festive activities, while July in this Church more often delivers weather not conducive to such outdoor nautical activities, and thus the Sunday is already being observed at different times in many places, and

(c) That Conference requested that in addition to the 2nd Sunday of July, provision be made for Sea Sunday to be celebrated on another Sunday as determined by local custom, and

(d) The 2011 International Mission to Seafarers Consultative Forum held in London gave unreserved support to proposing such a change,

The General Synod / te Hinota Whanui enacts as follows:

1. Title: The title of this Statute shall be The Calendar – Te Maramataka Amendment Statute 2012.

2. Purpose: To allow for Sea Sunday to be celebrated on an alternative date to the 2nd Sunday of July as determined by local custom.

3. The Calendar – Te Maramataka (of A New Zealand Prayer Book / He Karakia Mihinare o Aotearoa) – is amended as follows:

at the appropriate place on page 13, Section 6 (iii), in the Calendar, the words 'or on a Sunday as determined by local custom', are inserted following the words 'Sea Sunday – Second Sunday in July'.

4. Clause 3 of this Statute is the adoption of a specific proposal in terms of Part B, Clause 6(a) of the Constitution/ te Pouhere, and Section 4 (a) of the Church of England Empowering Act 1928, and shall be made known to Te Runanganui o Te Pihopatanga o Aotearoa, the Synod of the Diocese of Polynesia, and the several Diocesan Synods in New Zealand.

We certify that this Statute was passed by the General Synod/ te Hinota Whanui on 11 July 2012. As witnessed by our hands 14 August 2012.

WB Turei DJ Moxon W Halapua
Primate and Archbishop Primate and Archbishop Primate and Archbishop
Are you not surprised that there isn't a further expansion that the Sunday chosen cannot displace a Principal Feast or be during Advent and Christmas nor from the start of Lent until Trinity Sunday (remembering some people have spent a serious amount of energy on this)?
This legislation, doing the rounds of the dioceses and hui amorangi, is too much and/or too little. If all that is intended is that we can pray for seafarers and sing "For those in peril on the sea" at a service other than on the second Sunday in July, then I submit – this legislation is far too much for that. If, on the other hand, what is intended is to be able to replace our agreed readings but not on Principal Feasts and Seasons (or whatever) then this legislation does not go near to providing for that.
And, yes, by writing this blog post, I've now done the very thing that I'm trying to avoid: spend energy on gnat-straining. Welcome to the Coffee Machine Church!
For further reflection on this read Lectionary logic?
and Agreement
I am not the only one blogging about this. Read Rev. Dr. Peter Carrell's post Jesus never, ever intended this to happen!
Similar Posts: