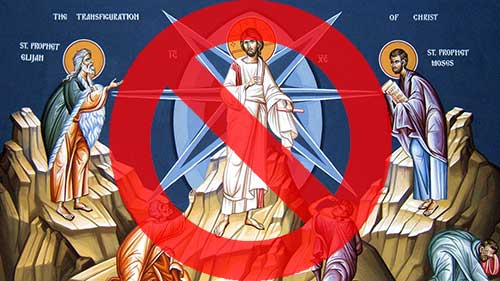 NZ Anglicanism (also called The Anglican Church of Or – if you don't know why, that will soon become apparent) has worship agreements that clergy and others vow and sign up to. These are called, "formularies".
Agreed Sunday Holy Communion readings are in the Book of Common Prayer (1662), OR The Two Year Series, OR The Three Year Series (both series are found in A New Zealand Prayer Book He Karakia Mihinare o Aotearoa 1989), OR (are those new to the Anglican Church of Or getting the reason for its name yet?), since 2001, the internationally, ecumenically agreed to Revised Common Lectionary of 1992.
[Well-trained/formed] clergy have been contacting me, asking why the Transfiguration readings for the Sunday before Lent is missing in our Lectionary booklet:
Transfiguration Sunday is one of the options authorised through the Revised Common Lectionary.:
In noting that this option is not presented in our Lectionary booklet (image at the top of this post), let me highlight: our vows and agreements are to the formularies – not to the Lectionary booklet. The Lectionary booklet has resources we have not agreed to; and (as in this case) it omits options that we have agreed to.
Although it is my personal preference to celebrate the Transfiguration on the Second Sunday in Lent with the majority of the world's Christians, those of you within the Anglican Church of Or are well within your rights and obligations to celebrate the Transfiguration this coming Sunday, 23 February.
In fact, until 2017, the Transfiguration Sunday option was included in the Lectionary booklet:
While we are having this discussion, I cannot find the option, of Transfiguration prior to Lent, in the latest digital NZPB/HKMA (tell me if you spot it). But, they do say: "It still contains some errors, which are being edited and updated as quickly as possible."
The "or-ness" of the Anglican Church of Or has flourished by our church gluing one good idea onto another pasted-on cool idea onto… (you get the picture) without paying attention whether these things fit together at all. One obvious example is our pasting the Mother Church of England's short Epiphany season which ends "with the Feast of the Presentation (Candlemas)" onto the Ordinary ("counting") system conceived after Vatican II by Roman Catholicism. Logically here, then, the "Last Sunday after Epiphany" is the Sunday before the Feast of the Presentation/Candlemas ie. 26 January 2020. Next year, Sunday 31 January 2021.
May I also note, in the Anglican Church of Or, the Transfiguration is an option on Lent 2. So, you could not use it on the Sunday before Lent and you could again not use it on Lent 2. In that sort of community, you would only celebrate the Transfiguration when August 6 falls on a Sunday – ie. only once every seven years.
Similar Posts: