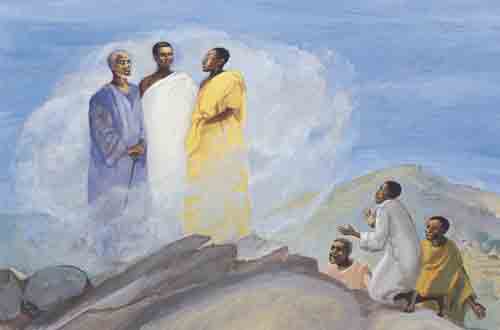 On this day in 1945, someone climbed not a holy mountain, but into the cockpit of a plane – a machine of war. There had been a lull of a week in the fighting between America and Japan. The Americans had a new secret weapon and they wanted to use it with the maximum psychological effect. On August 6 an atomic bomb was dropped on Hiroshima.
Here we have a new voice booming from heaven. Here too was brightness, brilliant as burning magnesium. Here too is a cloud that has come and has covered us all with shadow. Truly, under the shadow of this new cloud, we are right to feel afraid.
The shape of that cloud hangs now forever in our sky. Look at the shape of that cloud. It is the new tree of the knowledge of good and evil. We have eaten of its fruit and we shall never be the same again.
We today commemorate Hiroshima day, world peace day, by telling again the story of another climb, another light, another voice, another cloud. Jesus there was speaking of his departure, which he was about to accomplish at Jerusalem. Jesus was speaking of his death, his destruction by another tree, the cross. And we meet today below that cross, to break bread and proclaim the victory of Christ's death over every evil, even the total annihilation by human evil.
This is a reposting of an earlier reflection. The full reflection is here.
Other resources from textweek
image: JESUS MAFA is a response to the New Testament readings from the Lectionary by a Christian community in Cameroon, Africa. Each of the readings were selected and adapted to dramatic interpretation by the community members. Photographs of their interpretations were made, and these were then transcribed to paintings. See: www.jesusmafa.com and www.SocialTheology.com.
Similar Posts: