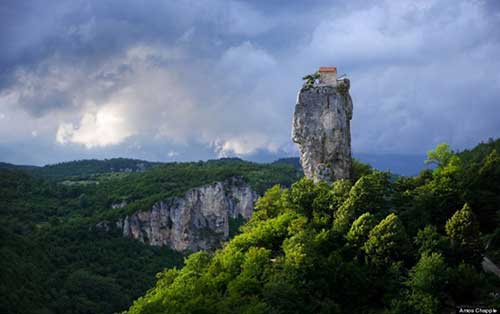 Film-maker Stephen Riehl was developing a work of fiction about a man who in the face of a world growing increasingly materialistic, depersonalized, and divided decides to withdraw into contemplation and become a modern day stylite.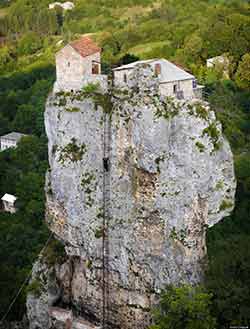 While researching stylite asceticism he happened upon a photo essay by Georgian photo journalist Temo Bardzimashvili about an Orthodox monk, Father Maxim Qavtardze, who was rebuilding a hermitage and chapel on a 40-meter (140 ft) rock outcrop called Katskhi in the central Georgian province of Imereti. He had been working on this for 15 years, and lives there now, fulfilling a childhood dream.
He produced a short documentary, Upon This Rock, and hopes to develop this into a longer feature film, The Stylite.
The Katskhi Pillar was used by stylites until the Ottoman Empire invaded Georgia in the 15th century. In 1944, a mountain climber climbed to the top and found the skeleton of a stylite and the remains of a chapel.
Father Maxim says, "When I was young I drank, sold drugs, everything. When I ended up in prison…. It was time for a change. I used to drink with friends in the hills around here and look up at this place, where land met sky. We knew the monks had lived up there before and I felt great respect for them." In 1993 Maxime took monastic vows and climbed the pillar to begin his new life. "For the first two years there was nothing up here so I slept in an old refrigerator to protect me from the weather." Since then Maxime and the nearby Christian community have constructed a ladder to the top, rebuilt the chapel, and built a cottage where Maxime spends his days praying, reading, and "preparing to meet God." As a result of the interest in the site there is now a religious community at the base of the pillar. Men with troubled lives come to stay and ask for guidance from Maxime and the young priests who live at the site. The men are fed and housed on the condition they join the priests in praying for around seven hours per day (including from 2 a.m. until sunrise) and help with chores.
There is a website, The Stylite
and a facebook page
There is a quarterly newsletter that will follow the progress of the documentary, The Stylite, from development to release. And a blog.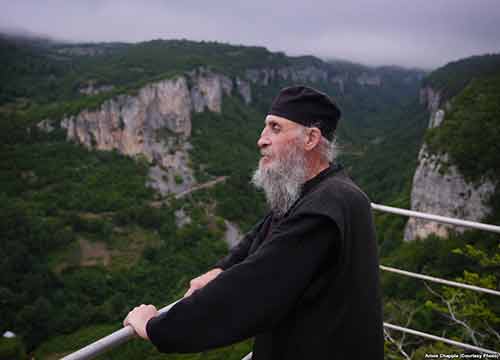 photos by Amos Chapple
Similar Posts: