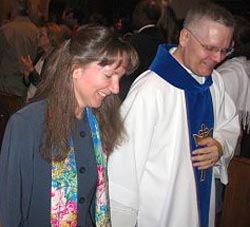 Since 2005 there has been confusion whether married Roman Catholic deacons may have sex with their wives.
It is a little surprising to me that for a church that usually dots its i's and crosses its t's the reintroduction of the married diaconate was not done with a little more care and thought about the married part of this reintroduction.
This is not a small issue – there are, for example, something like 17,000 Roman Catholic deacons in USA! For those who have been waiting for the result:
Cardinal-designate Francesco Coccopalmerio, President of the Pontifical Council for Legislative Texts, with Bishop Juan Ignacio Arrieta, Secretary, has forwarded to Cardinal-designate Timothy M. Dolan the Pontifical Council's observations on the matter (Prot. N. 13095/2011). The observations, which were formulated in consultation with the Congregation for the Doctrine of the Faith, clarify that married permanent deacons are not bound to observe perfect and perpetual continence, as long as their marriage lasts.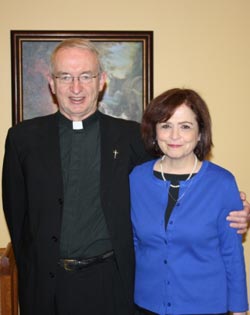 Following the comments around cyberspace on this discussion has been interesting. Including that the requirement that deacons be older (RC celibate deacons can be younger than married ones) would make continence a relief for the wife!
To the question, had the Vatican ruled in the other direction, and agreed with canonist Doctor Edward Peters, the Edmund Cardinal Szoka Chair Professor of Canon Law at the Sacred Heart Major Seminary, who argued against the possibility of having sex, Susan Kehoe, blogger at A Deacon's Wife, was quite clear – they would stop having sex.
I am not aware of any clarification as yet for married priests in the Anglican Ordinariate.
Only through researching this post did I become aware of a whole industry for deacon's wives from pendants, keyrings, lapel pins, embroidery, logo, Christmas tree ornaments, rings, even to… a wedding ring!!!
Someone more intelligent than I will have to explain how, if you can only be ordained deacon after being married, you can have marrying a deacon as a symbol on your wedding ring!!!
image source and here.
Similar Posts: