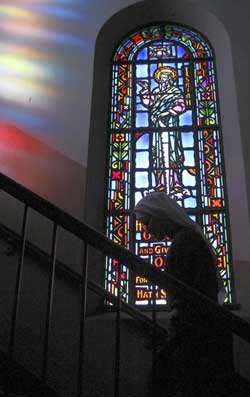 The Vatican's Congregation for the Doctrine of the Faith (previously known as the Inquisition) has appointed Seattle Archbishop Peter Sartain to oversee the Leadership Conference of Women Religious (LCWR). LCWR is to reform its statutes, programs and affiliations to conform more closely to "the teachings and discipline of the Church."
LCWR represents more than 80 percent of the 57,000 Roman Catholic sisters in the United States of America [let's put that size into a bit of a context – that's more than there will be people in our Anglican Churches in the whole of New Zealand on Sunday]. LCWR has been under "doctrinal assessment" by the Vatican since 2009.
In many ways, these sisters are the backbone of USA Roman Catholicism. The presidency of the Leadership Conference of Women Religious was stunned by the conclusions of the doctrinal assessment. Many laity will side with the sisters – possibly resulting in an increasing, not decreasing division between RC teaching and discipline and ordinary churchgoers. The very opposite of the Vatican's intention.
The news came on the same day as the announcement that the ultra-traditionalist Roman Catholic splinter group, the Society of Saint Pius X (SSPX), was heading "encouragingly" towards reconciliation with the Vatican. SSPX rejects some teachings of Vatican II. The allowing of wider use of the Latin Mass by this pope has encouraged SSPX. There is still the issue of SSPX's Holocaust-denying Bishop Richard Williamson, whose excommunication Pope Benedict XVI lifted two years ago.
All this comes hot on the heels of Pope Benedict's Maundy Thursday sermon in which he condemned priests who question celibacy and the ban on women's ordination.
The immensely popular Jesuit priest James Martin started a twitter hashtag #WhatSistersMeanToMe to remember how much people value the contributions of U.S. Roman Catholic sisters. "Catholic sisters teach me what it means to persevere in ministry without the benefit of institutional power. #WhatSistersMeanToMe," he tweeted.
Similar Posts: